Events
Ben David Jewelers Customers Help Raise $2,200 for God's Storehouse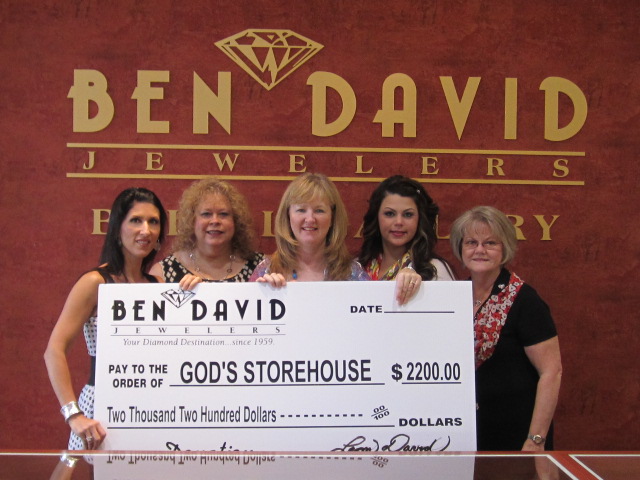 As part of the Governor's Bowl – Chamber Challenge food and fund drive campaign, Ben David Jewelers committed to donate a portion of the proceeds of everything sold throughout the month of June to benefit local food bank God's Storehouse.  Through the generosity of our customers, we are thrilled to announce that we have presented God's Storehouse with a check for $2,200.
God's Storehouse is a non-profit food pantry that was founded in 1987 by a group of local pastors and continues to be supported by over 100 churches in our community. Their mission is to distribute food to people in need in Danville and Pittsylvania County.
The idea for a partnership between Ben David Jewelers and God's Storehouse began when Governor Bob McDonnell announced the Governor's Bowl – Chamber Challenge food and fund drive campaign, which began on May 28, 2012 and ended on July 4, 2012.  During this period, Chambers of Commerce and State Offices across Virginia raised food and funds to be donated to their local food banks.
Ben David Jewelers owner Mark David says his team feels strongly about giving back to the community and are thrilled that this partnership with their customers resulted in being able to donate $2,200 to God's Storehouse.  Mark David adds, "God's Storehouse is doing great work in our community and we are excited to have partnered with them, Governor McDonnell, and the Danville Chamber of Commerce.  So many families in the Danville area are struggling to find jobs and have to wonder every day how they will put food on the table.  We want thank our customers for their outpouring of support in helping fellow residents in the Danville area with this basic need."
Ben David Jewelers is a second-generation jewelry store in located in Danville, VA, and owned by brothers Mark and Leon David.  This family-owned store has been operating in Danville since 1959.