Service Plan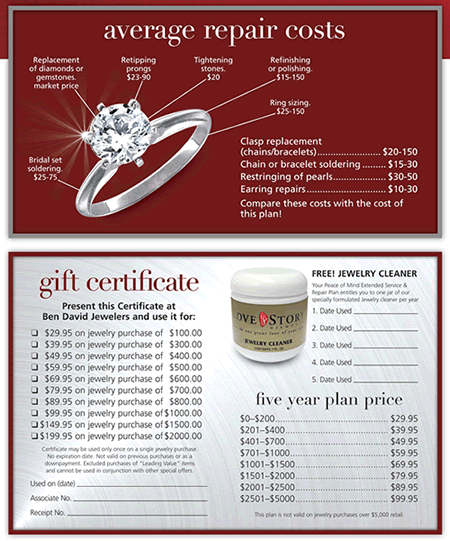 Preferred Jewelers Warranty is a plan to protect and service your jewelry in order to keep it in perfect shape. This service is conducted inside our store. Some of the services will extend to participating fine jewelers in other cities, so that you can use your plan when traveling or if you move.
There are many benefits to purchasing the Preferred Jewelers Warranty:
Free Ring Sizing
Tightening of Gemstones
Free Tipping of the Gemstones Settings
Free Inspection, Cleaning and Polishing
Bridal Set Soldering
Free Gemstone Replacement If They Chip
Free Insurance and Estate Appraisals
Free Jar of Jewelry Cleaner
Free clasp Replacement
Earring repair and Replacement of Lost Backs
30-Day Full Exchange Privilege
Stop by Ben David Jewelers to learn more about all of the services the Preferred Jewelers Warranty Plan offers our customers. Keep your rings, necklaces, earrings and bracelets in perfect shape and always looking like brand new.