It started with a simple Sunday afternoon drive.  One of our employees was out with her husband when she spotted a beautiful silver and diamond watch on a billboard.  "I'd love that watch someday," she says.  "Maybe you can give that to me when we have our first child."  What started as a simple statement and a hint for the future turned into a major discussion.
"You expect me to give you something when we have a child?  Isn't the baby supposed to be the reward for the pregnancy?"  he asked.  And so the discussion of the "push present" began.  He'd never heard of such a thing and thought it was ridiculous.  She immediately got defensive and couldn't understand why her hypothetical pregnancy and future baby weren't worth something, say a diamond watch.  So with that, the googling began…
Wikipedia defines "push present" (also known as a "push gift" or "baby bauble") as a present a new parent gives a new mother when she gives birth to their child. In practice the present may be given before or after the birth, or even in the delivery room.
In her defense, it exists on wikipedia, so it must be true, right?  In his, there is quite a lot of buzz around this phenomenon and many people are in quite an uproar over the thought that the birth of a child warrants a reward gift.  One article on MomLogic.com calls it "tacky" and seems to really judge the moms who expect a push present.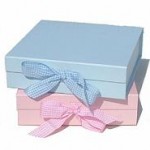 The NY Times also did an article called "A Bundle of Joy Isn't Enough?" on this very topic a few years ago that explored both the pros and the cons of this idea.  So, with all that in mind, we want to hear from you, our Ben David Jewelers customers:  What do you think? Tacky? Brilliant? Deserved? Ridiculous? And if you like the idea of a "push present," what is your ideal gift?