Watch Care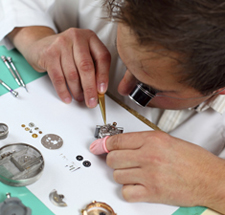 A Guide to Watch Buying
Today's watches can do some amazing things, as well as look gorgeous. It can be difficult to narrow down all of the choices in watches to find just the right one that you're going to love. You'll be able to choose from watches that have multiple time zones, phases of the moon, lots of other dials and gadgets for the athletic person or just a sleek, classic style for those with simpler tastes. There seems to be never ending possibilities for your new watch.
This guide will help you narrow down those possibilities to find the perfect watch for your lifestyle. Ben David Jewelers offers several fine brands of watches to browse, all offering different features, price ranges and styles. Give some thought to some of the ideal features you'd like your new watch to have, which price range you'd like and how you wear a watch. Do you want to wear your watch when you go diving or do you take your watch off before swimming and showering? By giving some thought to your lifestyle and your dream features then you can narrow down the choices rather quickly.
Size of Watches
Consider Shape
Function
Materials
There is a nice variety of sizes with watches these days. You can get one that is extremely large and overstated, or one that is quite small in a classic style. Think about your daily activities and how the size of the new watch might affect them. If you plan to wear it to work, for instance, it needs to be comfortable and not get in the way. If this watch is just for nightclubbing and social occasions then glamour is the way to go. You might want to pick out watches for each parts of your life.
Your new watch does say a lot about you. In a sense, it can be a status symbol, much like an automobile. A watch isn't just a timepiece anymore. It says who you are, your success in your profession, your sense of style and class. There are many top name brands from which to choose at Ben David Jewelers. Stop in and browse our Michael Kors watches, Citizen watches and our estate watches.