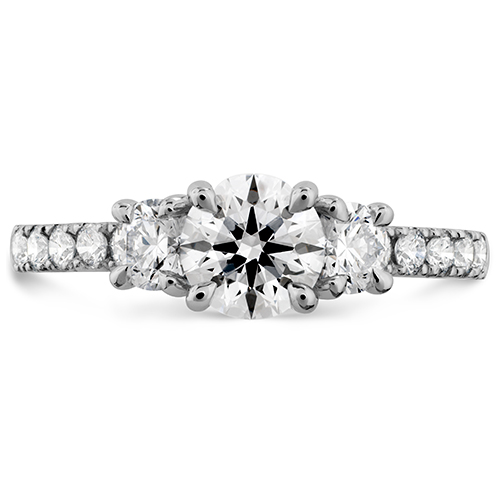 The 3 stone engagement ring is a great design. There is a hotly debated design concept that is called the Golden Ratio or Golden Triangle. Some feel it is bunk, others find that it makes a lot of sense. The basic idea is that when something is in thirds, we find it more appealing. A ring with one large stone and two smaller ones next to it, gives you the Golden Ratio. So, if this is your favorite engagement ring setting, you are not alone.
3 Stone Engagement Ring
All Designer jewelry brands have a 3 stone engagement ring or ten in their lineup. The solitaire diamond setting tends to be the traditional engagement ring and it is the ring everyone pictures in their mind when they hear the word engagement ring. But, not everyone wants that look of just one large diamond. Take a look at these designers and what they have done with the Golden Ratio idea.
ArtCarved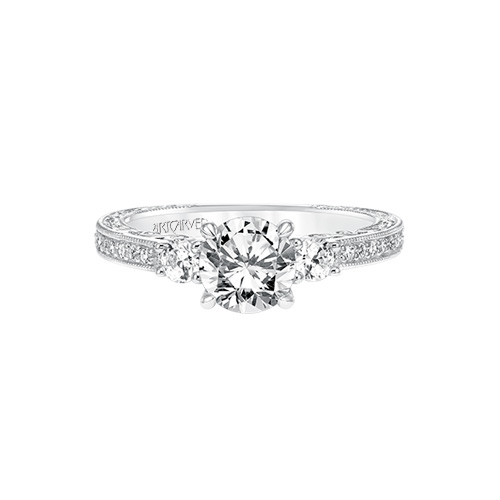 ArtCarved designed this 3 stone engagement ring that they have named "Rowan." It is a modest ring, overall, with a larger center diamond and two smaller ones, one on each side. The band is engraved and has milgrain to add a little more interest to the overall look.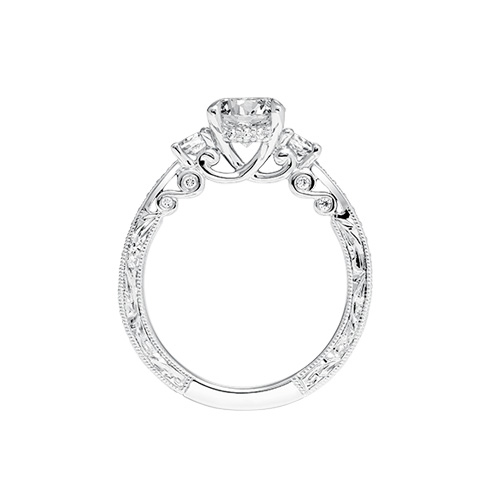 Looking at the side view of the Rowan, you can see lots of swirls and beautifully rounded designs that are along the inner edge of the ring. This gives the three stones some height and makes the diamonds more prominent so that they appear larger, plus it just plain looks great.
Verragio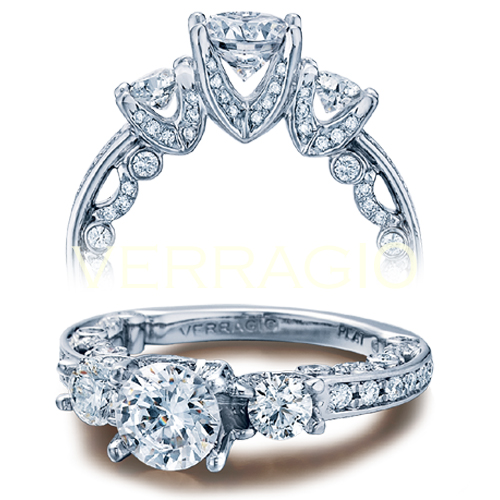 Verragio has a 3 stone engagement ring that adds a lot more gemstones to the design. This Paradiso 3002R ring has been designed to hold well over one carat of round diamonds. That is without the center diamond! The ring is designed to hold one large center diamond and then one smaller diamond on either side of it. Numerous smaller, round diamonds are up and down the ring's band to greatly add to the ring's diamond sparkle.
Additionally, the Paradiso 3002R has plenty of the curvy scrollwork inside the band giving the setting more height and adding to the overall beauty of the engagement ring. This inner design also contains four more round diamonds so that you will also get some sparkle from the side of the ring.
Hearts on Fire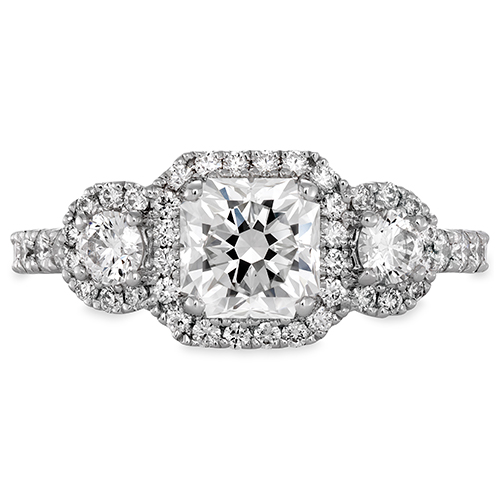 Hearts on Fire takes the 3 stone engagement ring to a whole new level! Their "Integrity" engagement ring has over 1.65 carats of diamonds, including the center stone. The center Princess cut diamond is encircled in smaller, round Hearts on Fire diamonds. The two side round diamonds are also surrounded with the smaller round diamonds.  All three stones have a halo of diamonds for maximum brilliance.
The inside of this ring is smooth and doesn't have any special design work. The ring band, however, contains even more round diamonds. All in all, there is no missing this ring when it is worn in daylight.
Diamond Engagement Rings
You can find the exact 3 stone engagement ring that you are searching for at Ben David Jewelers. This is the store with the largest bridal section in the greater Danville, VA, area. Stop by and browse while having refreshments. The Sales staff will go out of their way to make you feel comfortable and welcome as you try on all the different rings that you like. Congratulations on your engagement and upcoming wedding.