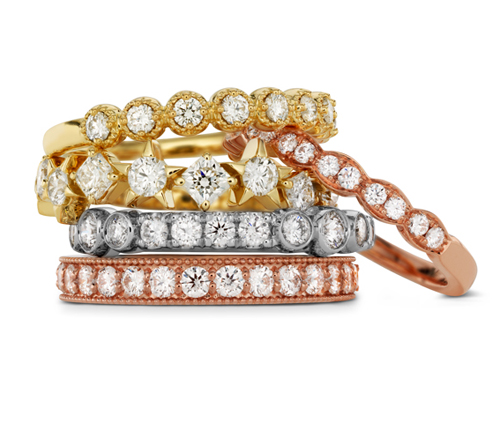 Hearts on Fire Choices in Rose Gold Wedding Bands
The 50th anniversary is a very special one. You have survived all the ups and downs of life, stuck by each other's side and loved one another for 50 years! This calls for a very special gift for your wife to celebrate.
50th Anniversary
Gold is both the traditional and modern gift for the 50th anniversary. What better place to find a gold treasure to shower upon your wife than Ben David Jewelers in Danville, VA? It is there you can find earrings, rings, bracelets and necklaces in gold to celebrate this special anniversary. Also, gold isn't just yellow. These days you can purchase rose gold and white gold in addition to the yellow. Here are some beautiful selections of rings for your wife. You can get her an upgrade to a beautiful engagement ring or a ring for the right hand. These rings are available in platinum as well as the traditional 50th anniversary gold.
Intermingle Single Right Hand Ring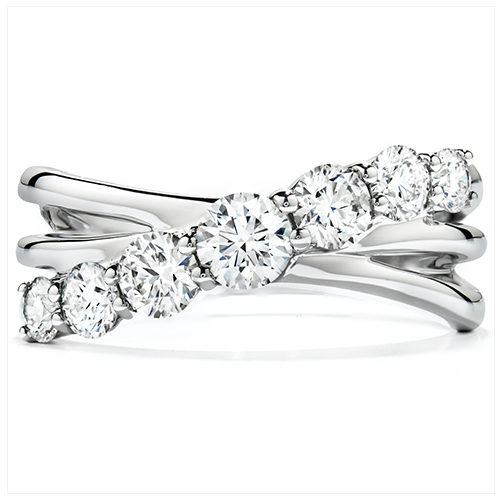 Intermingle Single Right Hand Ring by Hearts on Fire
This beauty designed by Hearts on Fire is called the Intermingle Single Right Hand Ring and makes a beautiful 50th anniversary gift. It is very special, but still modest in size. This ring is created with wearing on the right hand in mind. It is available in white gold, yellow gold and platinum and features .95 carats of white diamonds.
Copley Medallion Right Hand Ring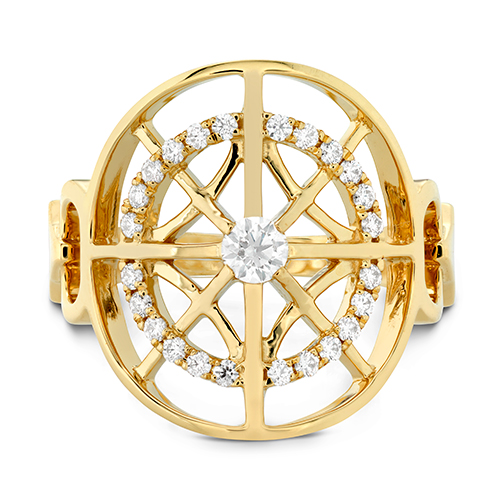 The Hearts on Fire Copley Medallion Ring for the Right Hand
The Copley Medallion is also
designed for the right hand
by Hearts on Fire. It also includes those famous Hearts on Fire cut diamonds that have the ring of hearts inside. It features a diamond in the middle of the design which is surrounded by a ring of round cut diamonds. This ring is available in yellow and rose gold. It contains .30 carats of diamonds.
Adoration Dream Double Row Engagement Ring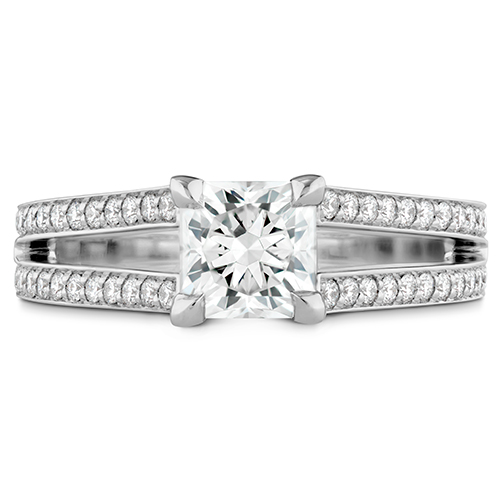 Adoration Dream Double Row Engagement Ring
If you are the romantic type, you might want to upgrade her original engagement ring with a gorgeous square diamond ring like this one. The Adoration Dream is a beautiful engagement ring with a sleek style. The diamond is square instead of the traditional round and it has two rows of diamonds on the band. It is available in platinum, white gold and yellow gold. The ring has .75 carats of diamonds.
Ben David Jewelers
Ben David Jewelers has been helping families mark the special occasions in their lives for over 60 years. They have the largest bridal section and they carry all the top designer jewelry brands. Stop by soon and the sales staff will help you pick out a spectacular gift for your wife for your 50th anniversary. We know you want only the best for your wife and we will have that for you.