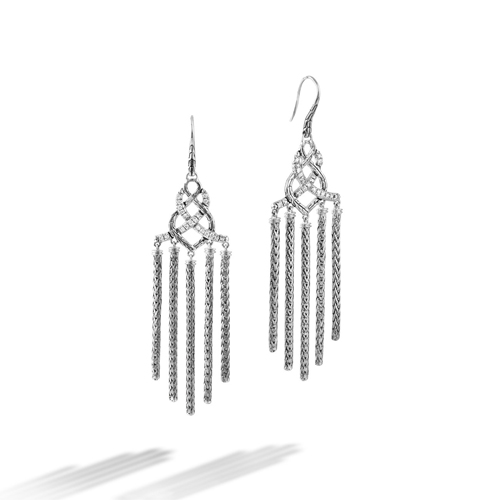 Chandelier Earrings designed by the John Hardy Company
925 sterling silver is the real thing. It is the silver you want your rings, necklaces and earrings to be made from. It is far more valuable than silver plated or stainless steel jewelry. So, you want to make sure that your silver is the real thing.
925 Sterling Silver
Pure silver is 99% pure silver metal. If you buy an ounce of silver in a bar then what you are getting is 99% pure silver. Unfortunately, 99% pure silver is not hard enough to be suitable for a jewelry metal. This is why we have 925 sterling silver. This is a metal that is 92.5% pure silver, so you can see where the 925 comes from. The rest is usually copper or some other alloy.
Signs of Fake Silver
Here are some signs that your jewelry is made from something other than 925 sterling silver:
It is attracted to a magnet
It is very inexpensive
If you rub it with a cloth no black mark appears
When exposed to nitric acid a cream color appears, not green
Of course, price isn't a very good indicator because unethical sellers will tell you it is 925 sterling silver in order to get a higher price than the jewelry is worth. So, if you are jewelry shopping, it is a good idea to have a magnet in your pocket to test anything before buying it. Of course, you would not need to do this in a fine jewelry store, but you would at the swap meet or to test a questionable piece of jewelry anywhere.
Beautiful 925 Sterling Silver Jewelry
925 sterling silver is used in fine jewelry, just as gold is used. It is beautiful and holds up very nicely in gorgeous designs.
John Hardy's Mesh Naga Bracelet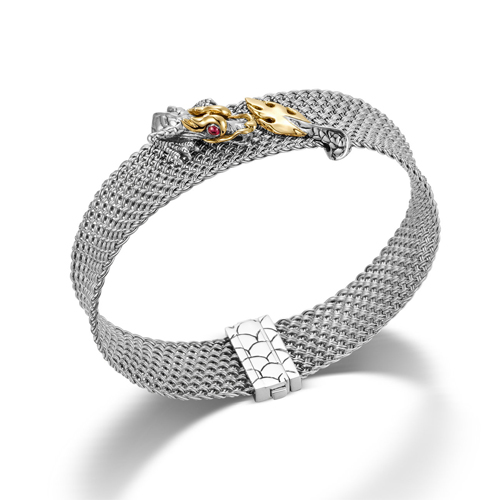 John Hardy's Men's Mesh Bracelet from the Naga Collection
This men's bracelet is designed by the John Hardy Company in 925 sterling silver. It has a ruby eyes on the dragon and has 18K bonded gold, but the mesh is made from oxidized 925 sterling silver.
Women's Double Coil Dragon from the John Hardy Naga Collection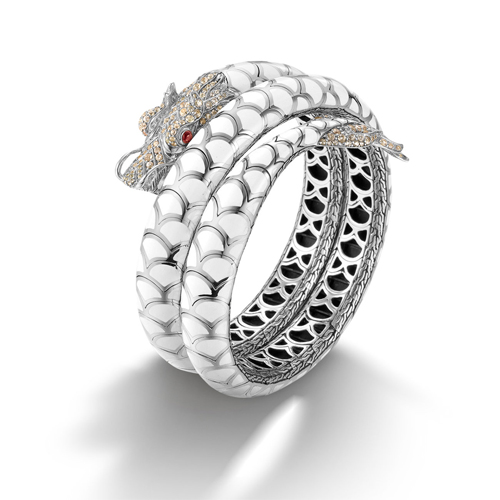 925 Sterling Silver Women's Naga Bracelet
For the ladies, John Hardy has created this white, Double Coil Dragon for the Naga Collection. It is created in 925 sterling silver and has white enamel, White Sapphire and African Rudy eyes. It is a beautiful addition to any woman's bracelet collection.
Naga Earrings in 925 Sterling Silver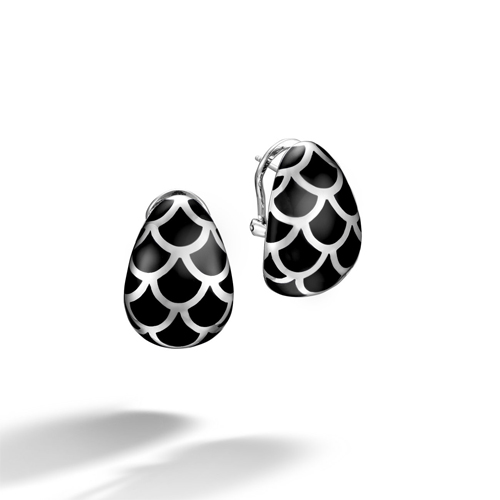 Naga Earrings Made of 925 Sterling Silver
Of course, if you're giving the gift of the Double Coil Dragon Bracelet from John Hardy's Naga Collection, then these earrings are a matching must have! These dragon scale style earrings are made in 925 sterling silver and black enamel.
Shop Like a Pro
When you're shopping for jewelry in off beat places like estate sales, yard sales or flea markets, it is a good idea to do a little magnet test before you offer a price. Of course, you do not want to pay more than the item is worth. If it is not magnetic then you'll know it just might be 925 sterling silver and you can bid accordingly.