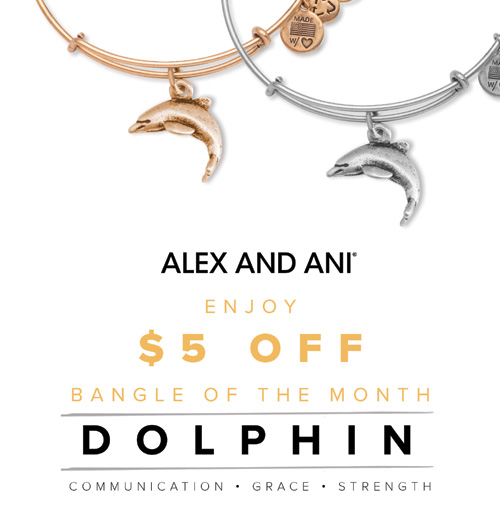 Alex and Ani is having a $5 off special for the entire month of July, 2015. This month you will receive a $5 savings when you purchase the Alex and Ani Dolphin bangle bracelet or the Mantis Glade Beaded bangle.
Alex and Ani Dolphin Bracelet
The Dolphin charm bangle from Alex and Ani is available in your choice of Rafaellan Silver or Rafaellan Gold finishes. The dolphin represents a guide that will take us through our dreams, helping us to learn whatever we need to learn there. This guide animal also represents communication, grace and strength.
Alex and Ani Mantis Glade Beaded Bracelet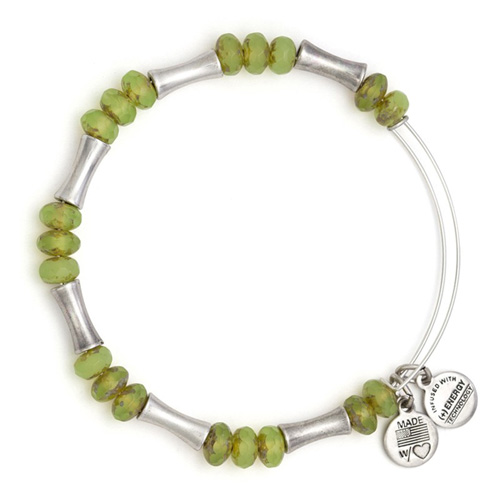 The Alex and Ani Beaded Bangle is also a July special. You will receive $5 off of the purchase price of this bracelet also when you stop in at Ben David Jewelers. This beautiful beaded bangle has nineteen jade-colored beads featured in groups all around the bangle. This bangle represents growth, potential and balance in your life and it complements any Alex and Ani bangle very well.
Alex and Ani
Alex and Ani is a spiritually based company that operates in ten different countries. Their beautiful bangle bracelet charms and designs quickly caught on with those who embrace their spirit within. They regularly contribute to worthy charities and are licensed by many popular franchises to use their logos. You will see notices frequently for the business awards they win, such as the Inc. 500 and other coveted acknowledgements.
Ben David Jewelers
Ben David Jewelers carries the Alex and Ani brand and keeps well stocked for your convenience. We'd never want to see you have to miss out on one of your new favorites. You can stop by any time during normal business hours of 10AM to 6PM. We are open later on Friday evenings until 7PM and on Saturday we are open from 10AM to 5:30PM. We'd love to help you try on all the Alex and Ani bangle bracelets, including the Dolphin bangle and the Mantis Glade Beaded bangle that are $5 off this month at Ben David Jewelers.