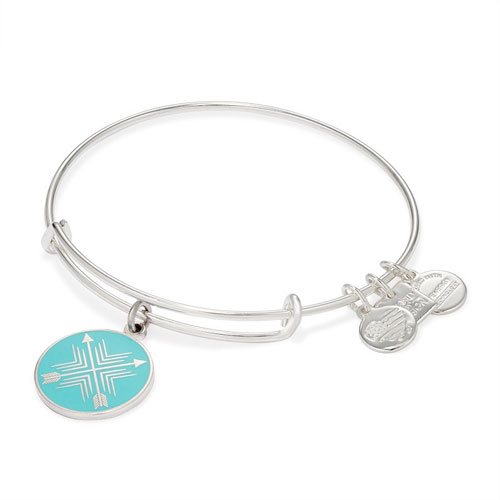 Alex and Ani have a charitable division called Charity by Design. This part of their company is responsible for donating to worthy charities. This year, Charity by Design is donating 20% of the purchase price of their new bangle charm "Arrows of Friendship" to the charitable cause Best Buddies International.
Arrows of Friendship by Alex and Ani
The new Arrows of Friendship bangle by Alex and Ani features a lovely charm that is your choice of a silver or yellow gold finish with blue enamel and a crossed arrows design. The intersecting arrows icon is symbolic of friendship by touching in the middle even though they are going in different directions, much like our own lives and friendships. This bangle would make a lovely gift to your best friend or to wear in honor of a current or lost friend.
Best Buddies International
The foundation to which Alex and Ani is donating from July 2015 through December 2016 is the Best Buddies International nonprofit. The income they generate from donations benefits those with intellectual and developmental disabilities. Best Buddies International has a strong volunteer system to help those in need develop leadership skills, become employed and create lifelong friendships. The organization helps over 900,000 people worldwide. It is considered a very worthy charity by the celebrities and others that volunteer their time.
Ben David Jewelers is participating in the Arrows of Friendship promotion and is well stocked with Alex and Ani's bangles. Know that by purchasing this particular bangle, you will be donating to this worthy organization and helping those with developmental and intellectual disabilities. Your donation will make their lives just a little easier in the future. Stop by Ben David Jewelers anytime during normal business hours Monday – Friday or on Saturday and we'll be happy to show you these lovely bangles.