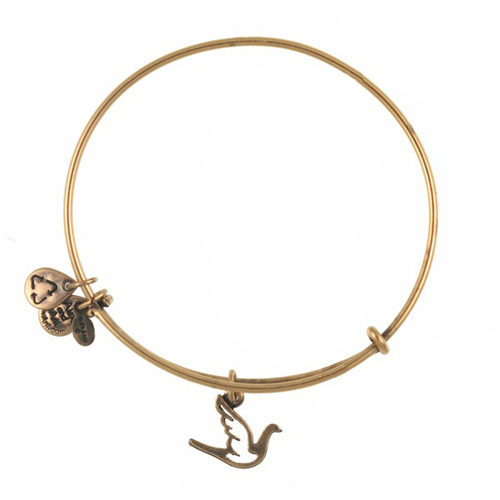 Alex and Ani bangle of the month of November, 2014, is the Sacred Dove. It is written that the Holy Spirit was in the form of the dove. When Jon the Baptist baptized Jesus, the dove came and stayed with him. This Alex and Ani bangle is celebrated this month and is $5.00 off for this symbol of the Holy Spirit.
Alex and Ani Sacred Dove Bangle
The Alex and Ani Sacred Dove Bangle offers a choice of Rafaellan Gold or Silver Finish. The bangle bracelet has a unique adjustable feature so that it easily fits any wrist like a custom made bracelet. This bangle should be cleaned only with a mild soap and water. You never have to polish it with jewelry cleaners.
The Sacred Dove Bangle is a beautiful addition to whatever stack of Alex and Ani bracelets that you are already collecting. Stack it with football icons, beads, flowers and any of the great designs that Alex and Ani offer.