The Alex and Ani charm of the month is a set of bangles called Calavera Art Infusion. The Calavera is a sugar skull that that is beautifully painted and decorated to celebrate one's ancestors. These sugar skulls have become an art form and for the month of April we celebrate the art of the Calavera.
Alex and Ani Charm Set of the Month
Typically, you see the Calaveras on the Mexican Dia de Meurtos, (Day of the Dead). The Roman Catholics celebrate All Souls' Day, which is a similar celebration where you might find some finely decorated Calaveras on the sweets table. Dia de Meurtos is an honoring of one's ancestors and giving sugary sweets as an offering. The Calavera is a representation of the human skull and made of sugar. They are always elaborately decorated with frosting decorations and plenty of colors. Some of the skulls are intended to be eaten. Others are intended only as art, manufactured from sugar with traditional methods then decorated with beads, flowers and clay pieces. The newest of Calavera art forms is the living Calavera, a person colorfully painted to create a spooky illusion of a Calavera.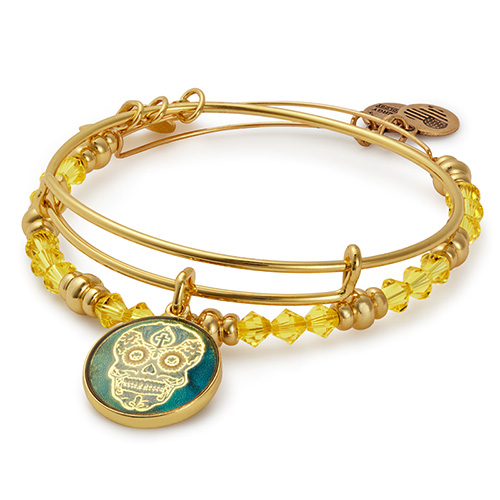 The Calavera Art Infusion Set by Alex and Ani Traditionally you'll see Calaveras only in the autumn when others are decorating for Halloween. However, Alex and Ani knows that their customers enjoy staying ahead of the curve, so they have released these bangles for April, 2017. You can pick up your Calavera bangle set this month and know that you won't miss out them during the autumn rush.
Where to Buy Alex and Ani
Ben David Jewelers is an
authorized retailer of Alex and Ani
. We know how much our customers love their bangles, so we always stay well stocked in all the charm specials of the month.