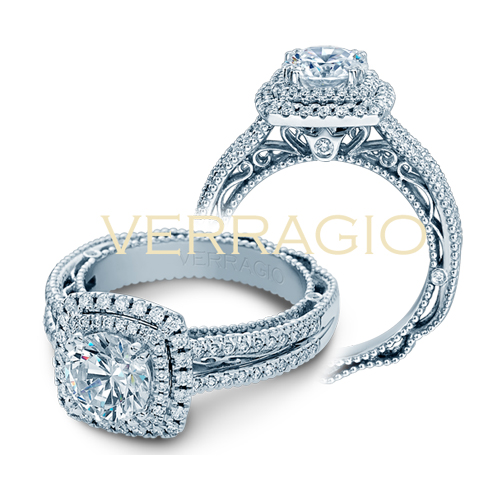 Model #5049CU from Verragio's Venetian Collection
Are you ready to see some amazing engagement rings? Stop by Ben David Jewelers and ask to see these gorgeous diamond rings. If someone has already purchased them for their engagement then they will have equally beautiful diamond engagement rings to show you.
Amazing Engagement Rings
Verragio is a designer brand carried by Ben David Jewelers that designs some amazing engagement rings. This brand is a must see brand! All of their rings are available in platinum and gold. Their gold choices are white gold, yellow gold in 18K or 14K.
Classic 903P5.5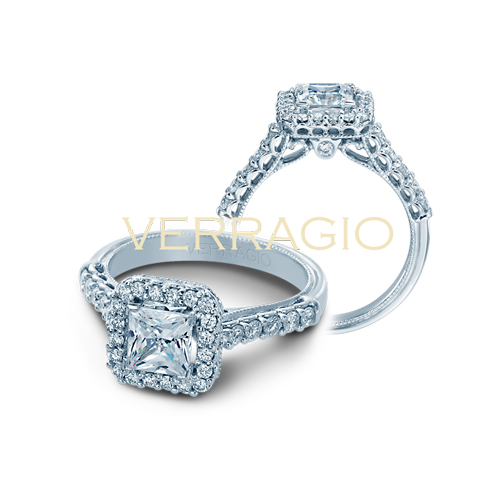 Model #903P5 from Verragio's New Classic Collection
This engagement ring by Verragio is model #903P5.5 and it is from their new Classic Collection. It features .50 carat of round, brilliant cut diamonds. These diamonds surround the Princess cut diamond that is in the center setting. The Princess cut diamond is not included, so that you can pick out the quality of diamond that you want.
Couture 0405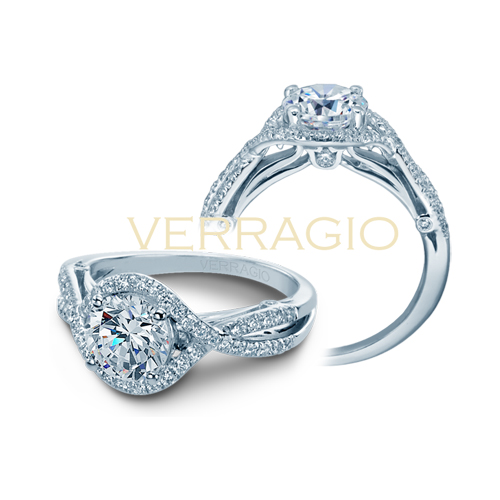 Model #0405 is from Verragio's Couture Collection
Verragio's Couture Collection offers this model #0405. The soft curves of this design might remind you of an eye, or maybe the symbol to ward off the evil eye. This beautiful ring offers .35 carat of brilliant cut diamonds that offset the round diamond in the center. You get to pick out that center gemstone yourself so that you can get the level of quality of diamond that you want. Of course, if you want to put a different gemstone in that spot, you can do that also! If you are crazy about sapphires, you can put a sapphire in the middle instead of a diamond, for instance. Ben David Jewelers wants to make sure you get the exact engagement ring you have been dreaming about.
Insignia 7074P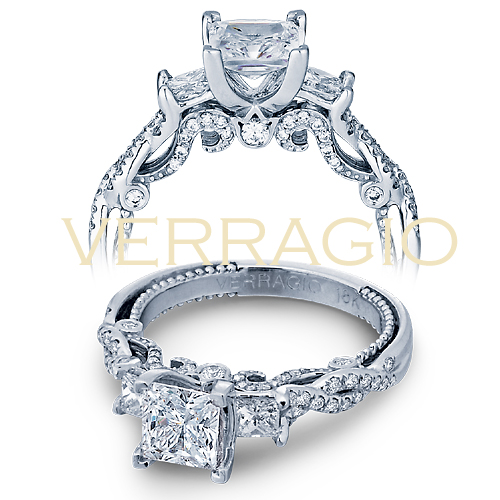 Model #7074 is from Verragio's Insignia Collection
As awesome engagement rings go, this particular model is spectacular. It has scroll work on the inner part of the ring, with the prong setting above it. This gives it additional height as well as beautiful, detailed design work. A Princess cut diamond goes in the center, which you get to pick out yourself. And that center diamond is surrounded by round, brilliant cut diamonds to really bring out the best in the Princess diamond. Additionally, more diamonds are on the weave design down the sides of the band. Simply spectacular!
See These Rings in Person
When you want to see awesome engagement rings, Ben David Jewelers is the place to visit. They have the largest bridal section in the greater Danville, VA, area. The sales staff is always happy to put out some cookies and coffee for you to enjoy while they help you browse through their incredible designer jewelry collections of
engagement rings
. It is never too soon to shop for that exactly perfect ring that you will enjoy for your lifetime.