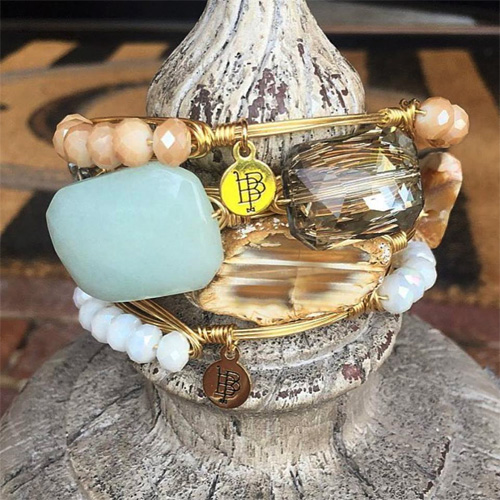 Bourbon and Boweties Light Colors Collection of Bracelets
Bourbon and Boweties is a very popular bracelet company in the South. Currently, the bracelets are made in the Tampa, Florida, area, but ladies all the way up the coast in the Southern states love their Bourbon and Boweties bracelets.
Bourbon and Boweties
If you want a bracelet that features unique and sometimes even peculiar items that are transformed into art, then Bourbon and Boweties is the company to seek out. Their bracelets include items that are sometimes considered quite strange. For instance, some will feature empty bullet casings, coins, chunks of colored glass and even found deer antlers.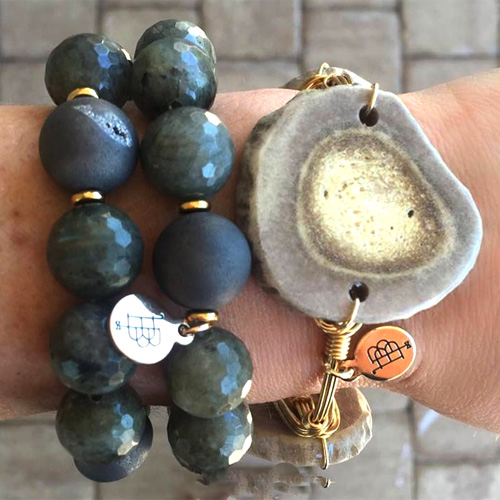 Bourbon and Boweties Bracelet Featuring a Slice of Fallen Antler
Made in the Good 'Ol USA
The Bourbon and Boweties Company has created an industry that focuses on their own company and the betterment of women's lives in Florida. The people that make these beautiful bracelets work in their homes in Tampa, FL. This allows these women to work while they care for their children and run their households. Some of the independent contractors are retired teachers and some are homemakers earing some extra cash for the household.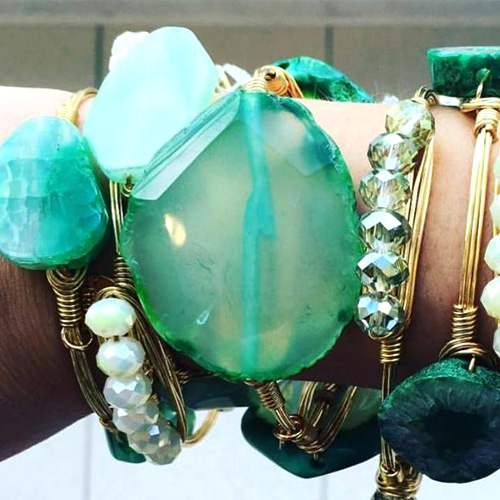 Collection of Green Bourbon and Boweties Bracelets
The bracelets are manufactured mainly in the independent contractor's homes, but the items they are transforming into art might come from anywhere in the world. Carly Ochs, the company founder, is frequently on buying trips that take her all over the world. She's always on the hunt for unique and sometimes bizarre items that you'd never imagine would go into a bracelet. But, once she works her design magic, it becomes wearable art.
Ben David Jewelers
Ben David Jewelers is proud to carry the
Bourbon and Boweties brand of bracelets
in their store. They believe in helping Southern Ladies better their lives as independent contractors. They also believe in giving their customers the level of craftsmanship and design that they have come to expect from a fine jeweler.