Bridal diamond rings at Ben David Jewelers offer a lot of creative and unique designs. No longer is the bride stuck with an engagement ring that looks like the one most everyone has. There are oodles of choices with fancy colored diamonds, nontraditional settings and a variety of precious metal choices. Which diamond rings speak to you and your fabulous sense of style?
Bridal Diamond Rings
You can add some cool blue diamonds this summer. Many jewelry designers are doing a lot with blues this year. Many women might want to explore fancy colored diamonds for their center stone or for all of their diamonds in their bridal diamond rings. There are a wide range of blues in diamonds from which to choose, from a light pastel blue to a deeper, darker and intense blue.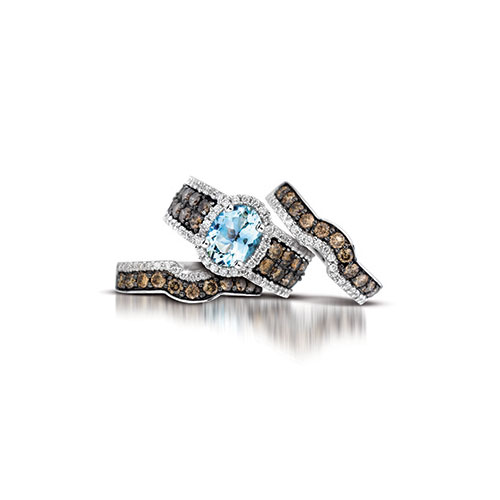 LeVian Chocolate Diamond Ring Set Featuring a Blue Diamond But, blue isn't the only great color for a summer wedding, yellows are big, too! Instead of going with a lighter yellow, you can indulge with the darkest form of yellow diamond, the chocolate brown. Chocolate Diamonds are a trademark of the famous
Le Vian jewelry designer
. They have made these dark brown and yellow diamonds very popular in their artistic designs in rings, earrings and pendants. Le Vian does have a bridal jewelry line that every bride needs to browse. Bridal jewelry is more than just an engagement ring. A bride will be wearing several pieces of jewelry when she walks down the aisle. A diamond brooch or sparkling chain in her updo, a bracelet, a diamond pendant, glittering earrings and her engagement ring are all popular bridal choices.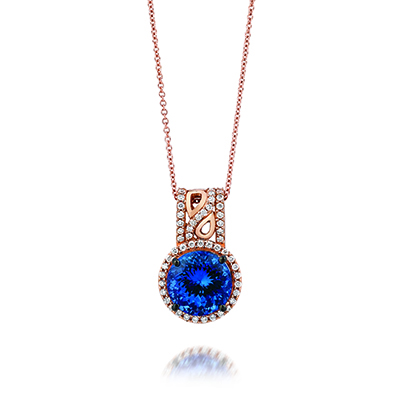 Azure Blue Pendant by Le Vian #VISH-607 Wearing few bridal diamond rings, or any other rings, for that matter is suggested. Just go with your diamond engagement ring and receive your wedding band. More rings than that will be a distraction from your special day.