Mila Kunis now has a diamond ring! "That '70s Show" fans get ready to celebrate because Mila Kunis and Aston Kutcher are officially engaged! Mila Kunis was spotted shopping with a diamond ring and so we suspected as much.
A Diamond Ring Engagement
It may seem as if they just started dating, but the two have been together for almost two years, after Kutcher split from his ex-wife Demi Moore. They first met on the set of That '70s Show where their characters were dating. Although we haven't seen a clear picture of the diamond ring, it looks like it is a Solitaire Emerald Cut Diamond Ring. It is simple and classic. For a similar looking ring, check out the Christopher Designs Ring shown below.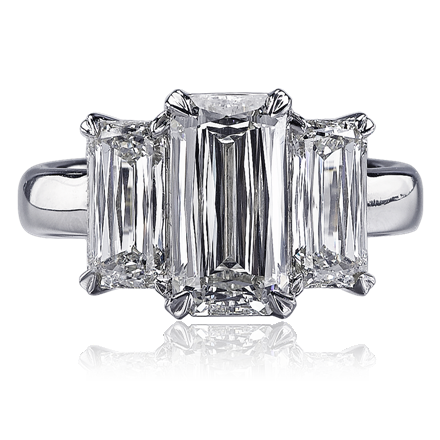 Congratulations to the happy couple!
About Kutcher and Kunis
Ashton Kutcher and Mila Kunis used to play sweethearts on "That 70s Show."  The characters they played were so in love and treated each other badly.  No matter how hard they tried to break up, they always kept coming back to each other.  It isn't surprising that the romance did not happen while they were on the show.  Kunis was only about fifteen years old when she started that role.
Now that Kunis is all grown up and Kutcher has ended his relationship with Moore, they are finally getting together in real life.  Of course, we all hope that the romance is a lot better than the one their characters had on the TV show.  But hopefully it will be love just as deep and last forever.  Their wedding is planned for July, 2015, after the birth of their baby girl. The wedding party is expected to have lots of members of the "That 70s Show" cast, because they've kept in touch and are all still close friends.