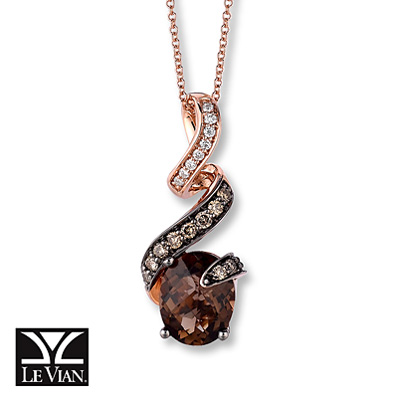 Chocolate Diamond Necklaces are created by the Le Vian Company, one of the many designer brands of jewelry that is carried by Ben David Jewelers in Danville, VA. These "chocolate" diamonds are actually brown diamonds. The name "Chocolate Diamonds" is a trademark of the Le Vian jewelry company.
Chocolate Diamond Necklaces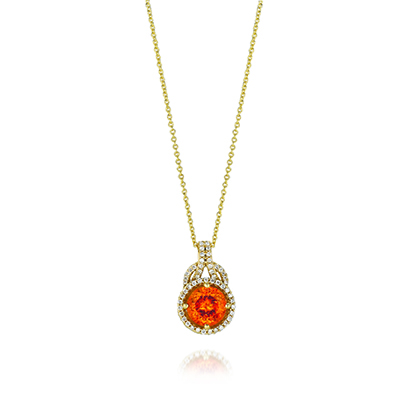 All of the diamonds for the Chocolate Diamond necklaces made by Le Vian are carefully selected and inspected to ensure they meet all of their criteria. Just any old brown diamond will do. It is needs to meet numerous quality ratings that were developed by Le Vian.
Before Le Vian brought these brown diamonds to the retail jewelry market and renamed them Chocolate, these diamonds were considered almost worthless. This particular color of diamond was sold to the manufacturing industry to make saws and other items. Never had anyone considered marketing them to women as beautiful gemstone in their rings, necklaces, bracelets and earrings! But, with the new name of Chocolate and keeping a standardized color for them, they have become just as popular as the other fancy colored diamonds.
Fancy Colored Diamonds
You see, not all diamonds are clear, or white. Diamonds come in many colors. There are the brown, of course, but there are also yellows, greens, deep reds, purples, violet and blues. Each of these colors have many shades of their color and blends with the other colors. Diamonds are not nearly as boring as you might have imagined!
Le Vian Jewelers
In May, 2015, there will be a Le Vian Trunk Show at Ben David Jewelers. If you preregister, you'll be able to attend this trunk show and browse all of their gorgeous chocolate diamond necklaces and jewelry that are set with these uniquely colored diamonds. Be sure to register early to ensure that you will have a spot at this jewelry trunk show.