The Hearts on Fire Transcend Cushion Diamond Engagement Ring
Cushion diamond engagement rings are so beautiful. The diamond shape is square and the main diamond in the setting is surrounded with lots of smaller diamonds. Here are some designer jewelry brands that create the cushion style of ring.
Cushion Diamond Engagement Rings
If you love lots of diamonds and are drawn to more square shapes than round, cushion diamond engagement rings might be the right ring for you. The shape of the center setting resembles a cushy pillow, hence the name. There are some designer jewelry brands that are particularly good at designing in this style. You want to take a look at Hearts on Fire, Verragio, LeVian and True Romance. If you pop into Ben David Jewelers in Danville, VA, then they'll let you try on cushion rings in order to find just the right one.
Hearts on Fire
Hearts on Fire doesn't have many cushion diamond engagement rings, so they create the illusion of a cushion cut diamond with their "halo" style in a square shape. It looks like a cushion diamond on first glance and it is just as beautiful.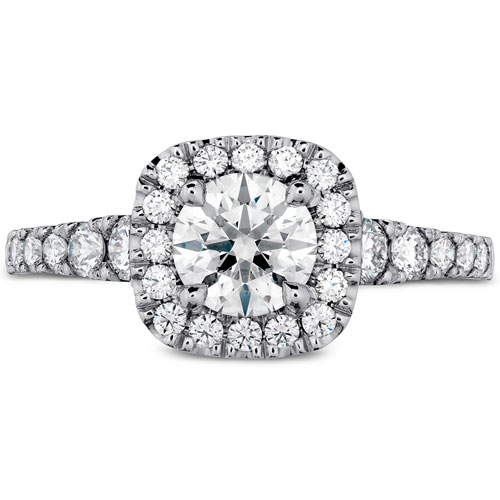 A Halo Diamond Engagement Ring that Looks Like a Cushion Diamond
This particularly beautiful ring is named Transcend Premier Custom Halo Engagement Ring. It allows for a Hearts on Fire Signature or Sensational diamond from .50 up to 1 full carat. The total carat weight of the diamonds in this ring is from .95 up to 1.50 depending on your main diamond choice. You have your choice of yellow gold, white gold or platinum.
Verragio
Verragio designed this cushion diamond engagement ring in such a way that you can put a cushion diamond in the middle or a round. Aside from the center diamond, it has a total of .35 carat of brilliant white diamonds in the square setting and band combined. This beautiful engagement ring is available in both platinum and gold.
Verragio Venetian Cushion Diamond Engagement Ring
Verragio rings are a very popular brand, especially with the ladies who enjoy a very sparkly statement. Their rings tend to have numerous diamonds in order to maximize the glittery nature of diamonds.
LeVian
LeVian has a cushion diamond engagement ring for the chocolate lover. It comes with a matching diamond wedding band in either white diamonds to offset the engagement ring, or in chocolate to blend in with the chocolate diamonds in the engagement ring.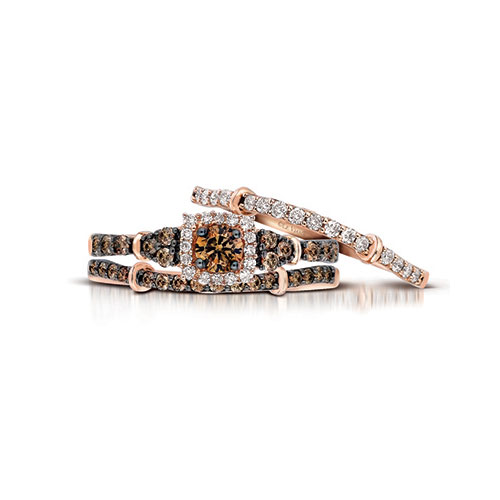 LeVian Cushion Diamond Engagement Ring in Chocolate
LeVian Jewelers is famous for their colored diamonds, especially the brown ones that they call Chocolate Diamonds. Their chocolate diamonds range from a light yellow to a darker milk chocolate color. These diamonds look beautiful when set along with white diamonds and the deep red diamonds.
True Romance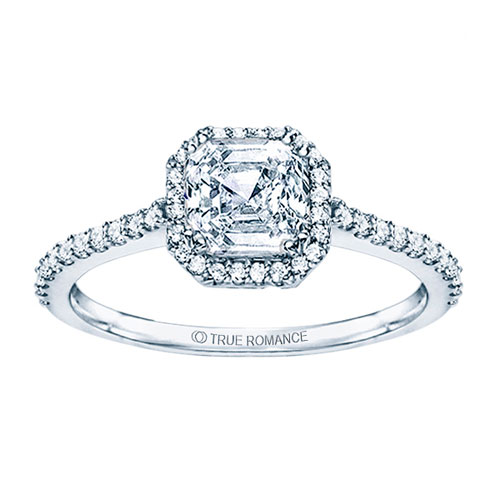 Ben David Jeweler's Cushion Diamond Engagement Ring
When you're browsing cushion diamond engagement rings at
Ben David Jewelers
, be sure to ask about their own brand, True Romance. There is one particularly beautiful cushion style ring they carry named RM1309, White Gold Cushion Cut Halo Diamond Engagement Ring. You can choose to have it made in white gold, yellow gold, rose gold or platinum. This ring is sold without the center diamond so that you can pick out the diamond you like.
Ben David Jewelers
Ben David Jewelers carry a lot of jewelry brands in their huge bridal section in their Danville store. They have cushion diamond engagement rings and numerous other styles. You might find out that once you are in the store you will find you absolutely must have a completely different ring than you had originally planned on buying. Stop by and let our sales staff help you try on the many styles and brands of engagement rings to find your perfect ring.