A diamond ring is the best gift ever for any girl who thinks there could never be enough diamonds in the world. One of the best places to get those diamond ring gifts is at Ben David Jewelers in Danville, VA. They carry all the top designer rings and they will likely have many diamond rings that your girl will love.
Diamond Ring
There are two main designers of diamond rings that Ben David Jewelers sells. Well, they have lots and lots of diamond engagement rings, but this blog post is about right hand diamond ring gifts. These two designers are Hearts on Fire and LeVian. Both of these jewelry designers make engagement rings, but they also make right hand diamond rings.
Hearts on Fire Diamond Ring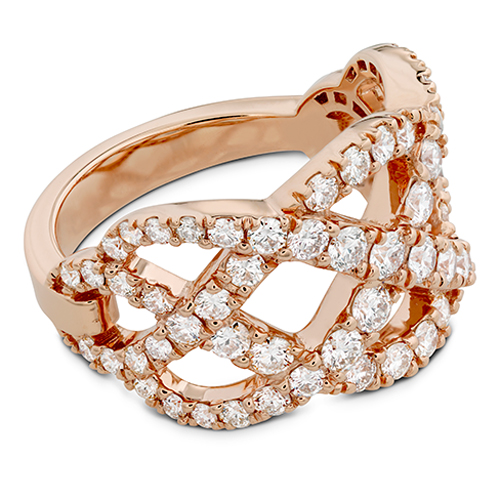 The Hearts on Fire jewelry designer brand has their own way of cutting diamonds. When you look inside a Hearts on Fire diamond using a jeweler's loupe, you will see a ring of hearts. A ring of hearts dances around inside the gemstone while you watch. What could be more romantic than a diamond ring with hearts inside? This is one of the reasons the Hearts on Fire brand is so popular with women. Of course, their designs are incredibly beautiful, as well, and that doesn't hurt!
The Intertwining Diamond Right Hand Ring is perfect for sparkling up that right hand for an evening out. Several bands weave in and out in this beautiful diamond ring, and every band is loaded with diamonds. The total carat weight of the diamonds in this ring is approximately 1.50. It comes in your choice of rose gold, white gold or yellow gold, all 18K. If your girl loves to have her diamonds noticed, this is certainly a good choice of a gift for her.
LeVian Jewelers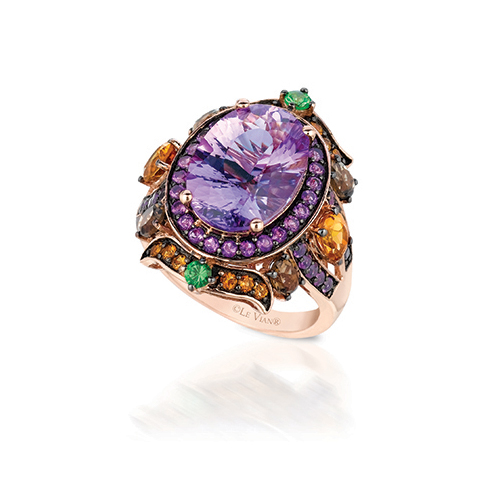 Another wonderful designer brand of diamond rings for the right hand or for engagement rings is the LeVian brand. LeVian is famous for designing rings with colored diamonds, especially their trademarked Chocolate Diamonds. Who knew that diamonds could be so colorful?! It is here that you can get a diamond ring designed for blue, green, yellow, red, pink, violet, purple, brown diamonds and all the colors in between.
This LeVian ring pictured has the model #SUUB19 and is an excellent example of the beautiful designs LeVian creates with colored diamonds. This diamond ring features a violet colored diamond as the center gemstone and surrounds it with a halo of smaller violet diamonds. Additional interest is in the mint green diamonds that are surrounded with chocolate diamonds and more smaller violet diamonds in a row on the band.
Where to Try on Diamond Rings
If you are ready to buy just the right gift of a diamond ring for your girl, stop by Ben David Jewelers to take a look at the beautiful selections in LeVian and Hearts on Fire diamond rings. You can stop in alone or bring her in with you and she can try on all the rings that make her light up with joy.