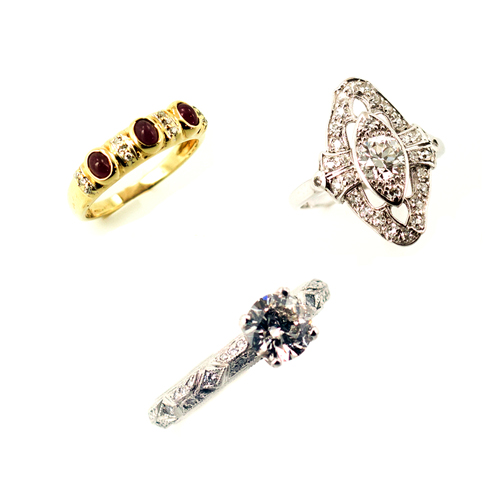 Estate jewelry and diamond rings are found right here in Danville, Virginia, at Ben David Jewelers. There is always a beautiful selection of these unusual and unique rings that we'd love to let you try on. Right now we have three gorgeous choices that are new to our display case.
Estate Jewelry in Stock Right Now in Our Danville Store
Three select pieces are featured this week. These beautiful diamond rings all feature diamonds in their designs, but to varying degrees. This estate jewelry is in our display case right now, waiting for you to try them on to see how they look on you!
Cabochon Ruby and Diamond Ring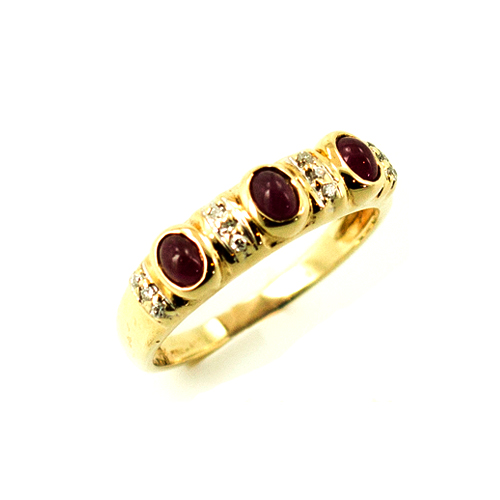 This diamond ring features three rubies as the main stones in the design. They are an oval shape and hence the cabochon name. This is estate jewelry and won't last long. When it is gone, there is nothing else like it. This ruby ring is made with 14K gold. It is beautiful as a ring by itself or stacked with other diamond rings. The price is only $550 and it would make a beautiful gift for that special lady in your life.
Platinum Diamond Ring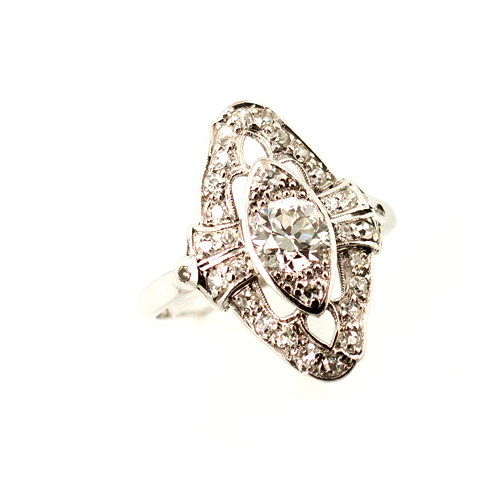 Another part of today's featured estate jewelry is this stunning Platinum Diamond Ring. This dinner ring boasts 1.25 carats of diamonds. Wearing this ring at a dinner party will certainly be the talk of the table! When you're looking for diamond rings for an anniversary or birthday gift, estate jewelry is a great place to start to find spectacular rings like this one. It is priced at $7,200 right now and it is lonely without your finger to take it to fun places.
Platinum Center Round Cut Diamond Ring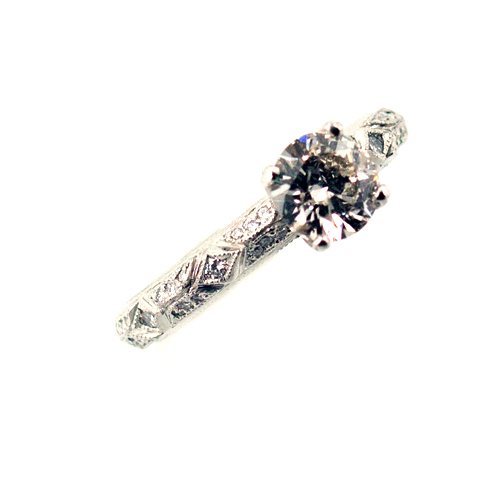 The diamond isn't the only thing that is gorgeous on this platinum diamond ring. Take a look at that band and the detail on it. It is so beautiful. If you are looking for a special, unique engagement ring for your girlfriend, then this just might be it. It would be extremely difficult to find another one that is anything like it, just like her. The total weight of the diamonds in this ring is 1.25 carat. The center diamond alone is .9 carat and it is round brilliant cut.
Diamond Rings that are Unique and Special
Estate jewelry is a gold mine of highly unusual and intricately designed diamond rings. Of course, you want only the best. You also never want to be in the position of wearing something someone else is wearing! How awkward would that be? Estate jewelry is the place to look for rare finds and something that likely nobody else has in the world. Stop in to see these three special rings today in our store in Danville. We're here to help you try them on and we'll let you tweet photos of them to all your friends.