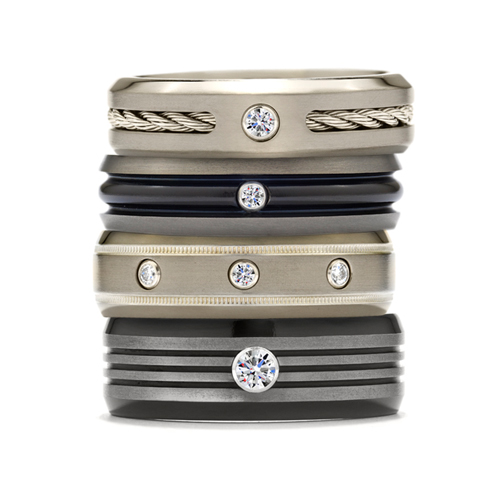 Men's Diamond Wedding Bands from Hearts on Fire
Diamond wedding bands for men are available at Ben David Jewelers and some are really cool. You can get them made in gold, silver, platinum, palladium and alternative metals for the rough and rugged guy. There are so many different brands and choices that it will be difficult to pick just one.
Diamond Wedding Bands for Men
There are many styles of diamond wedding bands for men. There are the various metals, but there are also a variety of style choices. Most of these wedding rings have a single diamond in a wide band, but they have different finishes and styles.
Unique Wedding Rings by Triton (they also carry diamond wedding bands for men)

Different finishes and styles include a brushed, polish or hammered. The brushed finish looks like someone scrubbed it with a brush when the ring was being created. That isn't how it is made, of course, but it looks like it. It is a very handy look for the guy who frequently scratches his wedding band. This style will keep those new scratches less noticeable. A polished finish has a very shiny look that you can see your reflection in. There is also the hammered look that is popular these days. It has the appearance of being roughly hammered out by a blacksmith. This also helps keep scratches and dents less noticeable.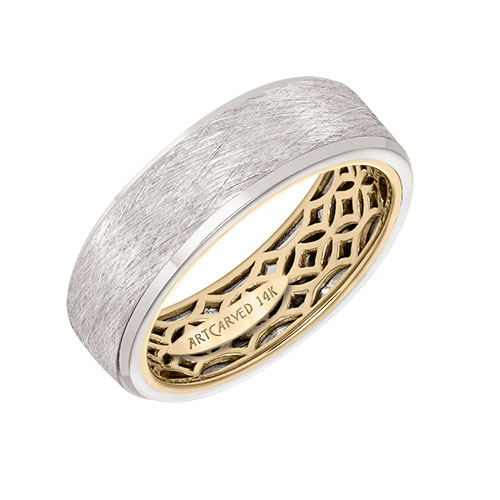 Artcarved Men's Wedding Ring
Metal choices tend to be gold or silver, but some brands of diamond wedding bands for men offer three types of gold, palladium, silver or platinum. There are jewelry brands that specialize in the alternative metals, also. The alternative metals offer a very hard metal that is very difficult to damage or destroy. These metals make it a great choice for the guy who is very active and frequently working on his car or in the building trades. His wedding ring will always look great, because it is nearly indestructible. Of course, for the avid hunter there are also a variety of camo wedding bands he can choose from.
Artic Camo Wedding Band
The Groom's Ring
The groom isn't left out in the cold when it comes to diamond wedding bands for men these days. He has a lot of choices now and isn't limited to just a plain, yellow gold band. There are oodles of choices with diamonds! He can get a variety of styles, colors, finishes and be just as stylish as the bride. Stop by soon at
Ben David Jewelers
to try on and pick out a really cool wedding band.