Diamonds usually don't come with a new engagement ring. Well, the smaller diamonds do, but the main stone in the setting is usually empty when you buy it. There is a very good reason for this.
Diamonds in Engagement Rings
The reason that fine jewelers don't usually include a main gemstone in your ring is because they want you to pick out the one you want. There are the
4 Cs
to consider: color, clarity, cut and carat. It might sound very simple – just give me huge diamonds! – but it does get a little bit complicated. Each of those Cs helps determine the value of a diamond. So, do you want the biggest diamond to be very, very clear in color and clarity? Or is having a lot of carats more important to you?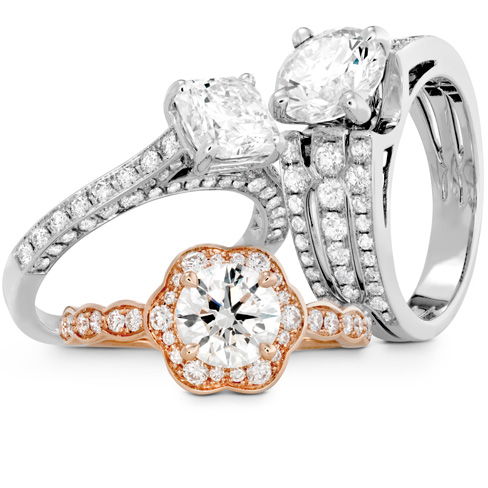 Some of the popular designer brands do come with a center stone in addition to all the other smaller diamonds in the ring. Hearts on Fire is one of these designers. Some rings come with a choice of size of diamond, but most are already put together for you. Hearts on Fire has a unique cut of diamond that reveals a little ring of hearts inside the gemstone. So, they are going to assume that is the diamond you are going to want, the only option after that is the weight of the diamond.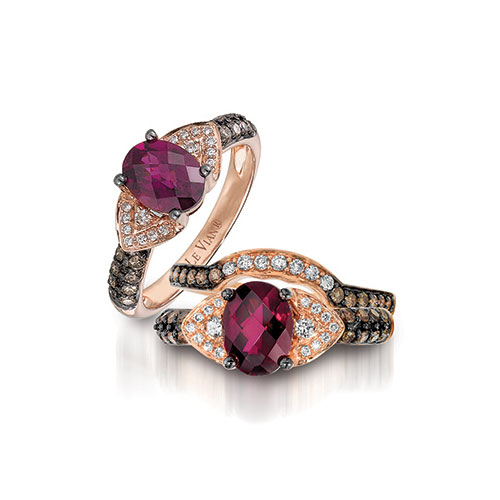 LeVian Model #YPEV-4 Featuring Red and Chocolate Diamonds If you fall in love with a particular diamond engagement ring that already had a gemstone in place, what to do? Ben David Jewelers can replace that diamond with one you do want. And actually, you can replace that diamond with another gemstone you like better! Jewelers can work their magic to make that stone you want fit in that ring's setting.
Ben David Jewelers
So, don't fret about the diamonds in your engagement ring. These things can be changed to reflect your own personal taste and needs. Stop by Ben David Jewelers today so that we can help you find the perfect engagement ring.