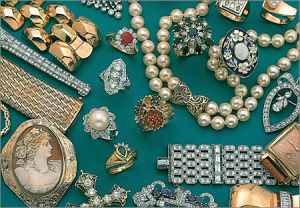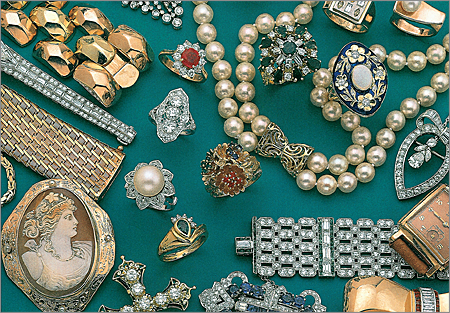 Would you like to stroll into a summer party wearing a bracelet previously worn by Cher? How about attending a black tie dinner in John Wayne's cuff links? Fancy an amazing bargain on a Cartier or Tiffany & Co. watch? These could be your experiences if you go to Ben David Jewelers' one-day estate sale on Saturday, June 22.
The focus is on vintage and estate jewelry with some contemporary pieces on offer, too. Not all the former owners were famous – the jewelry comes from large and small collections, from the US and abroad – but all the pieces are beautiful and fine quality. Prices start at a low $500 and range up to more than $50,000. The total price of this estate collection is $3 million, so you know there will be plenty to choose from. All have been inspected and refurbished when needed. Choose from rings, pendants, brooches, earrings and bracelets featuring sparkling gems set in precious gold or platinum.
Here's a helpful glossary when buying estate jewelry:
Antique: Pieces are more than 100 years old
Vintage: Usually applies to a specific period, such as Victorian (1837-1901), Art Nouveau (1895-1915), Art Deco (1910-1940), etcetera
Estate: Previously owned, from any time period
Contemporary: More recently created, but previously owned.
Want to get in the mood for the sale? Watch one of these old movies. Who knows, maybe you'll see a star wearing your next piece of fine jewelry. The following actors will be represented in the sale:
Cleopatra, National Velvet, Butterfield 8, Cat on a Hot Tin Roof, starring Elizabeth Taylor
Road to Bali, My Favorite Brunette, I'll Take Sweden, Casanova's Big Night, starring Bob Hope
The Great Gatsby (1974 version), Hannah and Her Sisters, Purple Rose of Cairo, starring Mia Farrow
True Grit (1969 version), Stagecoach, Red River, Rooster Cogburn, starring John Wayne
Moonstruck, If These Walls Could Talk, The Witches of Eastwick, Burlesque, starring Cher
Some Like it Hot, Sweet Smell of Success, The Black Shield of Falworth, starring Tony Curtis
Remember, the sale is one day only, June 22 from 10 a.m. to 5:30 p.m. Sale takes place at Ben David Jewelers, at 459 Mount Cross Road in Danville. Come when the store opens for best selection. This is your chance to acquire your own dazzling piece of history! And think of all the cocktail conversations you can start with, "John Wayne once owned these cuff links."