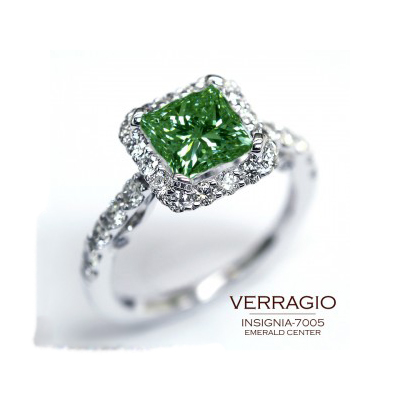 Emerald engagement rings are one of those unique, spectacular looking choices for an engagement ring. They are great for the girl who never wants to go along with the crowd and do what they are doing. She takes charge and creates her own style and unique design.
Emerald Engagement Rings
The cool part of emerald engagement rings is that you can use any ordinary engagement ring setting to create a beautiful emerald ring. The finer engagement rings do not come with the center stone. You get to pick that out yourself. So, you can just substitute an emerald for that main diamond in the design. You aren't limited to emeralds, either. You can put whatever gemstone you want in the center!
Designer Brands
There are several famous, designer engagement ring brands that are carried by Ben David Jewelers. Here are a few suggestions on rings that will make beautiful emerald engagement rings.
Lorelei Dream Single Cross Over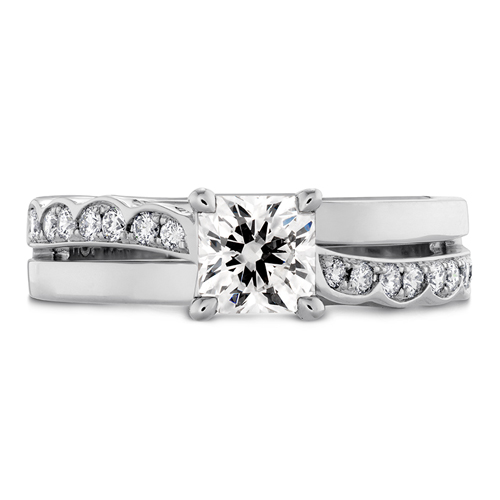 This Dream Single Cross Over ring is designed by Hearts on Fire and from their Lorelei Collection. It would make a beautiful emerald engagement ring by placing an emerald as the center stone instead of a diamond. This ring comes without the center stone. So, instead of picking out a diamond, you'll pick out an emerald. The smaller diamonds along the band will add a lot of attention and brilliance to the emerald.
LeVian Engagement Rings
Another option available for ladies that love green gemstones is to use a green diamond, as featured here in this beautiful "50 Shades of Green" designed by LeVian Jewelers. If you don't find the exact right design for emerald engagement rings then getting a colored diamond might be just the right ring. LeVian Jewelers is a designer brand that specializes in colored diamonds. They have all sorts of different shades of green, red, yellow and chocolate diamonds.
ArtCarved Emerald Cut Engagement Rings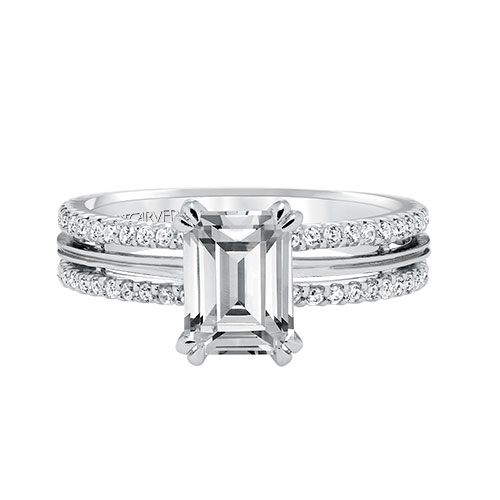 ArtCarved has several styles of emerald cut diamond engagement rings that make it easy to convert them to emerald engagement rings. Just slip in an emerald instead of purchasing the emerald cut diamond! Simple! This particular style from ArtCarved is called "Gwendolyn" and it is available through Ben David Jewelers. If they don't have this beautiful ring in stock, it can be ordered in. The engagement rings from ArtCarved do not come with a center diamond. This makes it perfect for turning into an emerald ring. The white diamonds on the band of the ring do come with the ring and will be a dazzling accent to your center emerald.
Ben David Jewelers in Danville
Ben David Jewelers in Danville, VA, carries all of these beautiful designer brands, plus they have their own designer brand of engagement rings. All of these brands make it very easy to turn regular engagement rings into emerald engagement rings. You only need to pick out an emerald instead of a diamond for the center stone, because you will be picking out that center gemstone anyway.