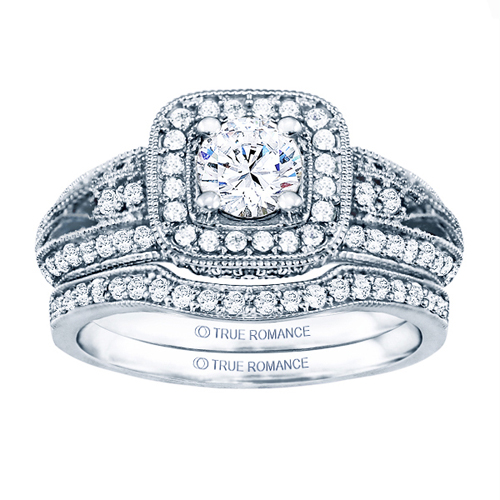 Engagement Ring - True Romance - 14k White Gold - M1377
So, how are you supposed to wear your engagement ring and wedding band? Do you put the engagement ring on first and then the wedding band or is it the wedding band first? There is a way to do this that is considered correct.
Wedding Ring Sets
Wedding ring traditions vary greatly. In some traditions both the bride and groom receive a gold band ring. In others, only the bride wears a ring and the man doesn't wear one at all. Some cultures and traditions have that the bride receives an engagement ring once she accepts the proposal and some do not follow this tradition at all. If you are one who expects to receive an engagement ring, you're probably wondering how you are supposed to wear it. There is a tradition for that, too!
The Traditional Way to Wear Your Engagement Ring and Wedding Ring
In the US, it is traditional to put on your wedding band first and then your engagement ring. An easy way to remember this is to remember that you want your wedding band to be closest to your heart. If you want, you can have your jeweler weld your engagement ring to your wedding band. This makes it one ring and it is a little easier to manage that way. If you are having your rings custom made then you can custom make your band also and have them fit perfectly together with the intent of welding them together after the wedding.
Other Traditions for Wearing Wedding Bands
In other countries you'll find there are other traditions in regards to wearing your engagement ring and wedding ring together. Some women will move their engagement ring to their right hand after the wedding in their tradition. There are others who will stop wearing the engagement ring altogether. It is probably best if you ask your family what your tradition is. We all want to keep our mothers happy, right? Your mother or other female relative will know what tradition your family has followed for generations in wearing the engagement ring and wedding ring after the wedding.