Traditional engagement rings, such as solitaires or halos, always seem to stay in vogue. However, as the average age for those marrying continues to increase, more couples look for untraditional expressions of their promise. Confident in their own styles, couples now look at a wide range of designs from bezel-set stones to thick, textured metal, both similar to and interlocking with traditional bands.
Engagement Rings Have No Rules
Engagement rings
no longer feel needlessly bound to heritage and tradition as when rings were passed down through the generations. Today's couples look at expressing their commitment in truly unique ways. Because of this, many choose custom pieces paired with a similarly designed or simple band. It's even common these days to see bands completely unrelated to the engagement ring's design.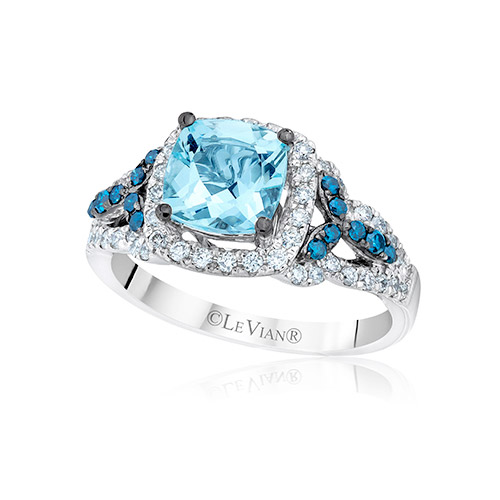 Blue Diamond Engagement Ring by Le Vian Stones also vary greatly in today's rings, with white diamonds often taking a backseat. While colored gemstones have grown in popularity during the past few years, recent months have seen a surge of colored stone combinations and accent colors utilized on rings. Natural stones continue to gain fans as well, pairing beautifully with interesting textures and metal combinations. A few rings even skip the stones altogether … but really, what's the fun in that?
Shades of Green Diamonds by Le Vian While modern, eco-friendly and sleek gain more and more popularity, some "unusual" styles are actually revivals. Edwardian jewelry with their feminine filigree enhancing bold oval, rectangle and square shapes live again. Today, you may even see these combined with the trend of interlocking bands, a concept abandoned in past decades. Engagement rings, while a significant part of our culture, style and fashion, must, above all, be about the couple. No other voices should have a say. When you're ready for this leap, let the
Ben David Jewelers' experts
help your unique relationship shine.