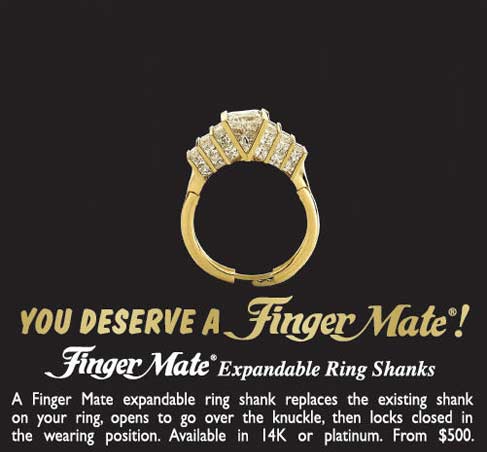 When ring size is a problem and nothing seems to fit right, the Finger Mate, the expandable ring shank, might be just the trick. Many people have difficulty getting their ring to fit, because if the ring is big enough to go over the knuckle then it is too loose around the finger. This new expandable invention is the perfect solution.
Ring Size
Don't let your ring cause discomfort because the ring size is too big. Finger Mate, the expandable ring shank, will expand your ring to easily slip over your knuckle and then resize itself to fit properly on your finger. You won't have to struggle anymore with your ring feeling too loose or spinning around, jamming the diamond setting into your other fingers. Once your ring is fitted with Finger Mate, you will be able to get your ring off and on easily and it'll sit properly and snugly on your finger.
Expandable Ring Shank
This expandable ring shank is available in both 14K gold and platinum, so that it will be a perfect match to your wedding ring, engagement ring or right hand ring. To open the ring wider, you pull it from the top and then slide it onto your finger. By squeezing the sides of the ring, it closes and fits snugly on your finger.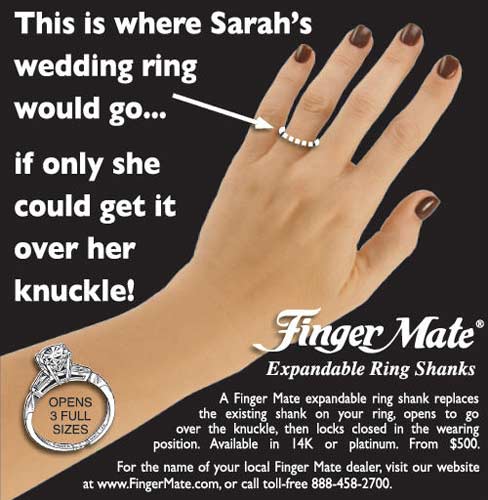 Finger Mate then locks into position as a safety feature. It also will expand slightly to give the finger a little relief if it swells a little on a hot day. But, a spring hidden inside will keep the ring from opening too far, so you never need to fear that it will open up wide and fall off the finger.
Ben David Jewelers
Ben David Jewelers is an authorized retailer for Finger Mate, the expandable ring shank. They can add this to most rings, if you have these types of problems with ring size. We want to make sure that your ring fits comfortably and beautifully. If you find you have to struggle with your engagement ring or other rings, ask us about this helpful expandable shank. Once it is installed on your ring, you will be able to wear your ring again and appreciate its beauty.