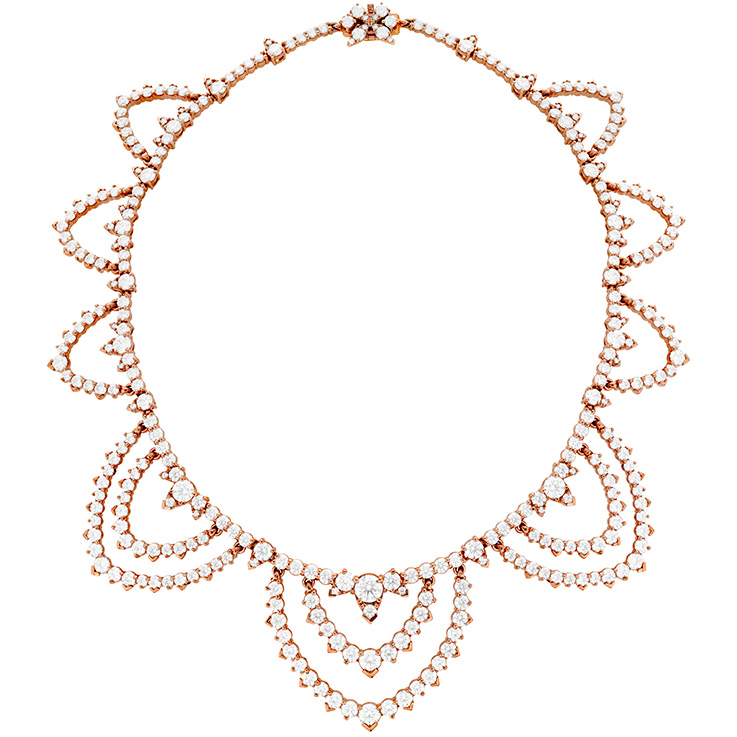 Aerial Diamond Collar features over 40 carats of Diamonds
A fashion necklace makes for a very personal and beautiful gift for the woman you love. Hearts on Fire is known for their romantic diamonds – their trademark diamond cut reveals a ring of hearts that dance around in the light inside the gemstone. Aside from the romance of their diamonds, they design some gorgeous necklaces and pendants. Take a look at this particularly beautiful creation from Hearts on Fire.
Fashion Necklace - Aerial Diamond Collar
The Aerial Diamond Collar fashion necklace is a gorgeous, stylish statement of beauty. This romantic, flowing design is loaded with a total of almost 41 carats of white Hearts on Fire diamonds set in 18K gold. You do have your choice of gold color: yellow, white or rose. If your loved one is a little more modest, you can change the carat weight of the necklace to about 30 carats. This will give the necklace smaller diamonds and still keep the beautiful classic design. The Aerial Collection from Hearts on Fire is known for its designs representing mystery, power and charm. This particularly classic, flowing style is one of their most magnificent statements of charm.
Ben David Jewelers
If you would like to see this fashion necklace in person,
contact Ben David Jewelers
in Danville, VA. They will arrange a showing for you, so you can decide if this is the right necklace for that gift you have in mind.