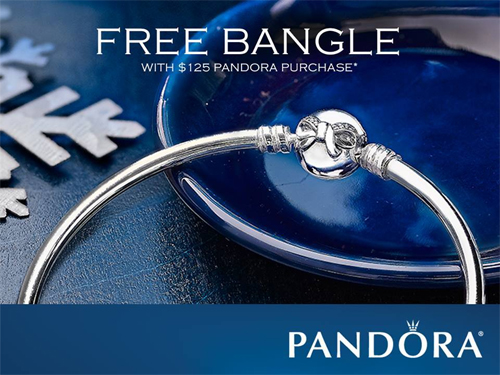 Attention everyone! Pandora Jewelry is giving away free bangles to their loyal customers. Be sure to get yours at Ben David Jeweler's Black Friday deals on Friday, November 27th, starting at 9am.
Bangles for Free!
You will receive one of the genuine Bow Clasp bangles with your purchase of $125 or more on Pandora jewelry. Supplies are limited, so it is a good idea to get to Ben David Jewelers early to make sure you get yours. If the Bow Clasp bangle isn't one of your favorites then you can use it for an upgrade for another one that you have your heart set on. There is a limit of one free bangle per customer.
Pandora Jewelry
Pandora has the most imitated bangles and charm bracelets in the USA. Their styles, designs and quality are far superior to most costume jewelry on the market. The company is located in Denmark and sells their popular charm bracelets in the USA and 89 other countries in 9500 different stores. They have over 15,000 employees, over 10,000 of which manufacture these popular designs. It is the Pandora philosophy that they want to use the finest in jewelry materials to create beautiful jewelry at affordable prices.

Ben David Jewelers Black Friday
Ben David Jewelers will be open on November 27, 2015, at 9am for the Black Friday event. It is here where you can pick up your free Pandora Bow Clasp bangle with your purchase of $125 or more in Pandora bangles and charms. There are many types of designs to choose from. Pandora is officially licensed to create designs using the images of Disney and the NFL, plus they have many other awesome collections to choose from.