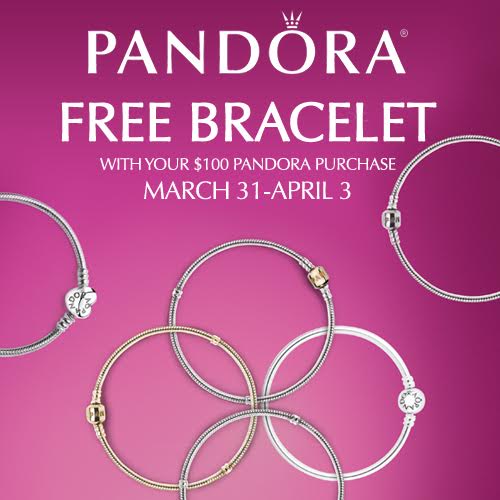 Get Your Free Pandora Bracelet
Pandora bracelets are like no other. The sterling silver, 14 karat gold and two-tone bracelets and charms are known for their quality and beauty. From March 31st to April 3rd, when you spend $100 on Pandora jewelry at Ben David Jewelers you will receive one free sterling silver bangle bracelet worth $65.
Sterling Silver Bangle Pandora Bracelets
The sterling silver bangle bracelet is the flagship of the Pandora brand. It has a sleek yet classic design made with quality craftsmanship that will make this bangle bracelet something your children can pass down to their children. With a variety of charms available, the bracelets can be worn every day or on special occasions, and can be worn in groups or as one alone. Whatever statement you wish to make with your jewelry is possible with Pandora bracelets.
Very Charm-ing
The charms available for your Pandora bracelet are as gorgeous and unique as the wearer. Made with the finest quality precious metals and gemstones, Pandora charms are available that can reflect both your personality and mood. Whether you love gold or silver, blue topaz or diamonds, Pandora charms are unique works of art available to personalize your jewelry and your life.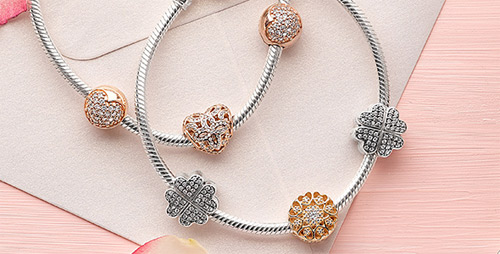 Pandora bracelets captures your personality with charm
More Than Just Bracelets
Pandora bracelets are often imitated, but can't be recreated. Their quality and unique design make them a beautiful addition to your jewelry collection. But, Pandora has more to offer than just bracelets, they also have earrings, rings, necklaces and pendants for you to choose from. Ben David Jewelers is proud to carry an array of products from the Pandora line for you to add to your jewelry collection. So, come into
Ben David Jewelers
between March 31st and April 3rd to discover Pandora bracelets, charms, earrings and necklaces for yourself to find one that suits your style and personality and to receive a free gift from Pandora to you.