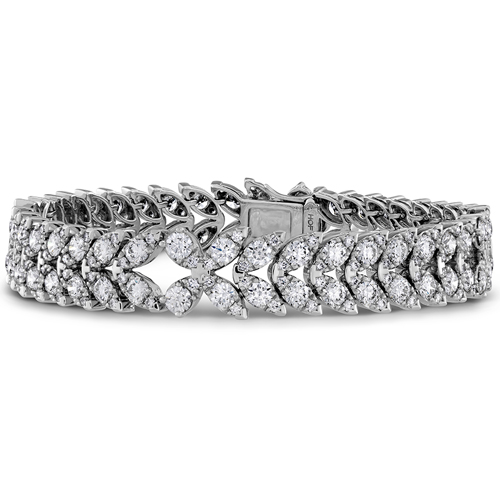 Even in the soft candlelight setting of a restaurant, the Hearts on Fire diamond can be seen from five tables away. It is brilliant, beautiful and there is no missing it by anyone nearby. Ben David Jewelers in Danville, VA, carries the Hearts of Fire diamond jewelry.
Hearts on Fire Diamond Jewelry
• Less than 1% of the world's gem quality diamonds qualify to be made into a Hearts on Fire diamond.
• Less than 400 people in the world are qualified to make a Hearts on Fire diamond.
• Out of the four Cs, only Cut is under man's control.
• It is the cut that can reveal the diamond's beauty.

Why These Diamonds are Spectacular Diamonds
Hearts on Fire has two cuts. There is the Round Brilliant Hearts on Fire Diamond and the Square Dream Diamond. Watch the video above to see how a perfectly cut diamond shows its brilliance and reveals five perfectly matched hearts in a ring on the bottom.
Hearts on Fire doesn't make only beautiful engagement rings and wedding bands. They create all types of jewelry from spectacularly brilliant earrings to unforgettable bracelets and necklaces. The Aerial Diamond Bracelet is just that sort of unforgettable bracelet. More than ten carats of Heart on Fire diamonds are assembled together in a butterfly wing style, all around the wrist. The bracelet is done in 18K white gold. Anyone who is in the same room as this bracelet will never forget seeing it. If this is the type of bracelet you need, speak with Ben David Jewelers to find out how you can make this beauty yours.
The TearDrop Diamond Wedding Band
If you cannot bear to have just a plain gold band for your wedding band, then this is the ring for you. The Hearts on Fire TearDrop Wedding Band approximately 1.5 total diamond karat weight. The diamonds are set so that they give the illusion that they are pear shaped. This ring would certainly make a beautiful wedding anniversary gift. Take a look at the other Hearts on Fire jewelry that we carry.