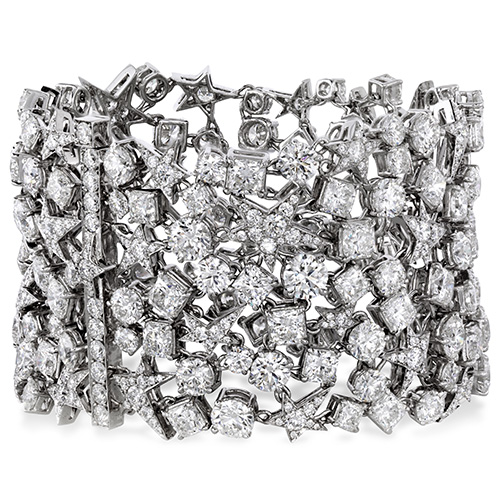 This Hearts on Fire diamond bracelet is quite the beauty to behold. It is named Illa Constellation Bracelet after Ilaria Lanzoni, who designed it at Hearts on Fire. This incredible bracelet is loaded with 68 carats of Hearts on Fire white diamonds, all set in 18K white gold.
Hearts on Fire Diamond Bracelet
This is indeed a very special bracelet. It is the most expensive Hearts on Fire diamond bracelet on their website. They are a little secretive about the price, but it is in the neighborhood of half of a million dollars. If you would like to talk price with Hearts on Fire, call them at 877.PERFECT or use the live chat feature on their website to speak with their Perfection Stylist.
It must be quite the experience to just put this incredible bracelet on your wrist. It is 7" in length and every inch of it is full of the full sparkle of Hearts on Fire diamonds. Some of the settings in this bracelet are star shaped and others are square or round. The design is meant to imitate the constellation of stars in the sky. If you'd love to feel the weight and beauty of this spectacular diamond bracelet, you can have Ben David Jewelers arrange a fitting for you at Hearts on Fire.
Hearts on Fire
Not all of Hearts on Fire's jewelry has a price tag of a half of a million dollars. They design numerous earrings, rings, engagement rings, bracelets and pendants every year in all price ranges. Ben David Jewelers is honored to be a retailer of their romantic and showy designs. Many of the Ben David Jewelers customers love Hearts on Fire, because each diamond is cut in a special way that reveals a ring of hearts inside the diamond. Stop by Ben David Jewelers if you're ready to look for just the right Hearts on Fire bracelet.