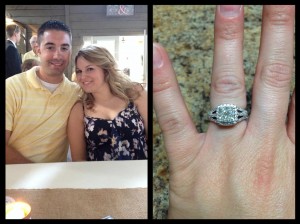 First Hand Experience in Wedding Planning
Hey guys! For those of you who may not know me, this blog post is a small introduction to who I am and what my blog is all about! My name is Jordan Curtis and you guessed it, I work here at Ben David Jewelers! I just recently joined the newly engaged crowd and could not be more excited to share my life with my fiance (can I just say I LOVE that word?)! I'll be sharing my ups, downs, and everything in between that's happening with our wedding plans, which is only 3 months away I may add, with you guys!
What better way to begin than to tell you how we came to be engaged? It was no surprise by any means, despite some hefty work by my coworkers to conceal the surprise. I actually picked out my engagement ring. Many people will tell you that my way is totally non-traditional, but you do what works for you the best! If your fiance wants to know what you like, don't be afraid to speak up! From a sales perspective, you make it much easier on your fiance-to-be if you give him even the tiniest idea of what you may like. Most of the time before the proposal you will have had some kind of marital talk if it's headed that way.
More Wedding Planning Ideas to Come
Continuing forward with plans, plans, and more plans! I will be sharing my favorite sites, articles, and any advice I think you may find helpful. You can always comment and let me know of anything you want to share with me and other future brides and I will be glad to further share the information in one of my blogs! I'm looking forward to sharing this huge part of my life with all of you and hope to bring lots of inspiration to the table!
Happy Planning!
Jordan