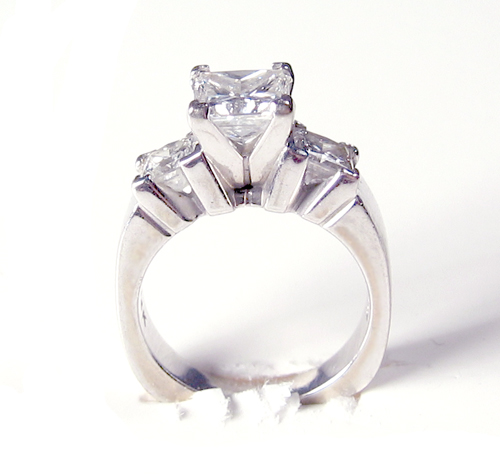 Engagement rings were on the mind of David William Watts while he was browsing rings at Crown Family Jewelers in Australia last November when he must have had a bit of a hunger pain. He snatched and then swallowed two engagement rings.
The Tasty Engagement Rings in Question
Apparently these particular engagement rings were some of the nicest in the store, as their combined value was close to $60,000. No report was made on their flavor or texture, but it is certain they were not very digestible.
Waiting it Out in Jail
Of course, Mr. Watts was quickly apprehended and taken into custody until he "produced" the engagement rings. For eleven days they waited and Mr. Watts did not turn over the engagement rings from his morning business. The police were not too interested in collecting the evidence themselves and left the suspect in charge of delivering the goods.
Eleven days was getting to be a pretty long time so the authorities investigated further. With some medical testing they could see there was only one engagement ring in Watts' system. Apparently, that first stool check that neither the police nor Watt did was a very rich flush.
Yummy in His Tummy
When Mr. Watts later passed the second ring, he fetched it. He washed it while taking a shower, tied a string to it and swallowed it again. Mr. Watts didn't want it to get away like the first one, apparently. A colonoscopy later revealed the ring and allowed the medical professionals to retrieve it.
Mr. Watts pleaded guilty to theft in excess of $5,000 and a few other charges that were not related to the nonedible goodies. We was fined over $10,000 and given a suspended sentence on the six-month jail sentence.
Mr. Watts was quoted later as saying he swallowed the second ring again because he believed the police had stolen the first ring. He didn't want them to steal the second ring as well.
Where That Engagement Ring is Today
The engagement ring that was recovered from Mr. Watts' colon was auctioned for charity. It wasn't reported the amount they fetched for the delicious ring, nor if someone use it to propose to his beloved.