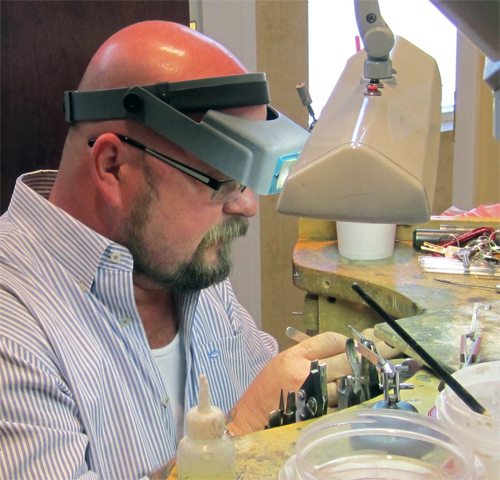 Jewelry repair is one of the many services we offer our customers at Ben David Jewelers in Danville, VA. We have over fifty-five years of jewelry repair experience and we have a Master Gold and Silversmith Jeweler on the premises.
Jewelry Repair Onsite
Our jeweler is there when you need to have something repaired. We do the repairs ourselves and never need to send the jewelry out. You can rest assured that your needed repairs are done by us and insured while in our possession. For your convenience, we photograph your jewelry at the counter when you give the order to have it repaired. If, for some reason, you have to have the repair done immediately and cannot leave it then we'll do the repair right then. You can watch our Master Gold and Silversmith do the repairs right at the counter.
Types of Repairs We Can Do on Jewelry
We can do repair services on gold, platinum, palladium and silver. We can do amazing things to make your rings fit comfortably.
The types of jewelry repairs we can do:
Size rings up or down so they fit comfortably
Reset gemstones that have fallen out of the setting
Replace gemstones if you need a different stone
Repair setting prongs
Shorten or lengthen chains on necklaces and bracelets
Replace earring posts
Add a new clasp to necklaces and bracelets
Restring pearls
Replace thin ring shanks
Why People Love Ben David Jewelers in Danville, VA
People come from all over to use our jewelry repair service at Ben David Jewelers in Danville, VA. Our clients know that we can be trusted with their finest jewelry. We are a full service jeweler with over fifty-five years in the business of creating, repairing and selling fine jewelry.