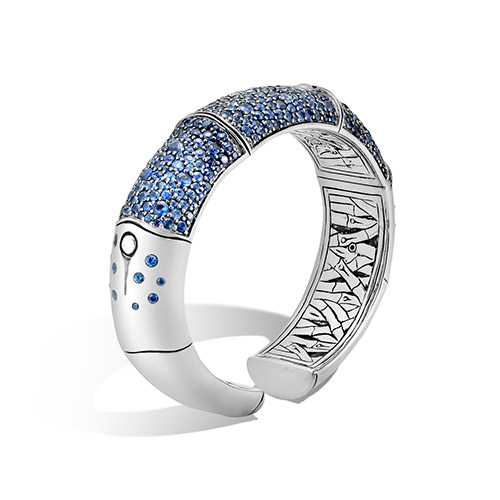 John Hardy Kick Cuff Bamboo Bracelet with Blue Sapphires
The John Hardy Bamboo Bracelet comes in a variety of brilliant colors and styles. When you see these gorgeous bracelets in person, you'll find it quite difficult to pick just one. All of the bamboo bracelets will have the expert craftsmanship, attention to finer details and long lasting, genuine materials that you've come to expect from John Hardy.
John Hardy Bamboo Bracelet
Bamboo styling is a common theme with John Hardy. There are many different types of John Hardy bamboo bracelets, but here we'll focus on just a few. The kick cuff is used a lot in his catalog in various colors and some have gorgeous gemstones!
Bamboo Small Kick Cuff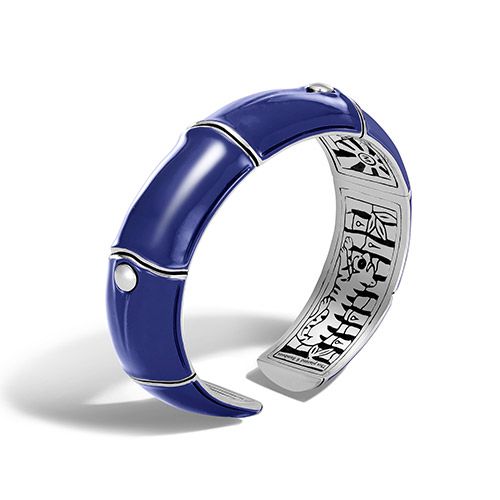 John Hardy Bamboo Kick Cuff in Blue Enamel
When you want to add a big splash of primary color, the Kick Cuff will fit the bill. This bracelet is created from sterling silver in bamboo shaped segments. There is bold color added with enamel paint that comes in your choice of primary red, primary blue or black. The cuff measures 17.5mm wide. There are bamboo designs inside the kick cuff.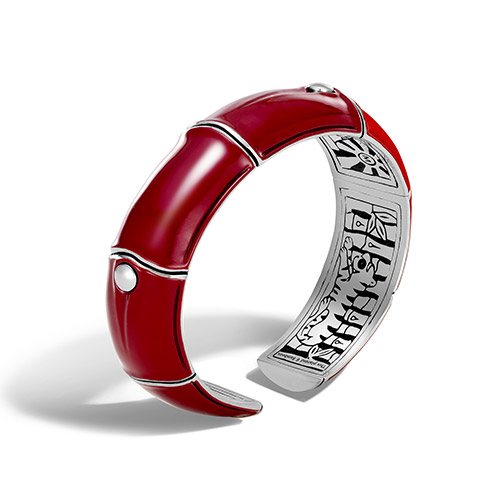 John Hardy Kick Cuff in Red Enamel
Brushed Double Coil in Bamboo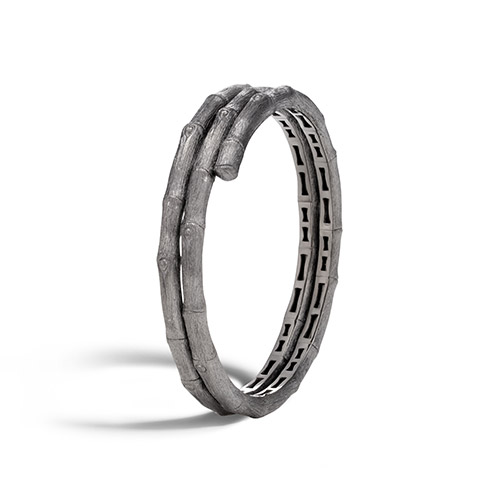 Brush Double Coil Bamboo Bracelet by John Hardy
Another great bamboo design is the John Hardy Brushed Double Coil. This bracelet takes on a more natural look and is made with brushed sterling silver. The brushed look is enhanced with the black rhodium plating. This bracelet measures a width of 12mm.
Kick Cuff with Sapphires
When you want to go simply fabulous with a Kick Cuff, chose the one with blue sapphires. This bamboo bracelet is available in small, medium and large sizes. You have your choice of black sapphires or blue sapphires, both are in sterling silver. Both styles have the bamboo designs inside the bracelet. See the photo at the top of this blog post.
Where You Can Buy John Hardy
These John Hardy Bamboo Bracelets can be
found at Ben David Jewelers
. Ben David Jewelers stocks most of the John Hardy jewelry line.