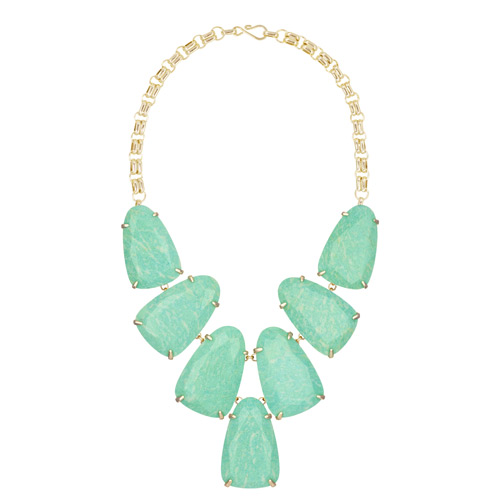 Harlow Gold Amazonite Necklace by Kendra Scott
Kendra Scott has released their fashion designs for spring. Many of the new necklaces, earrings and bracelets feature amazonite. When green or turquoise type of colors and stones are your favorites then you will love amazonite jewelry from Kendra Scott.
Kendra Scott Amazonite Jewelry
Kendra Scott did it again and came up with a beautiful set of affordable gemstones for this spring line of necklaces, earrings and bracelets. Amazonite was originally named for the green stones found in the Amazon, but today these stones are more likely to be found in the state of Colorado. You can find this green variety of feldspar nestled between quartz crystals and granite in Crystal Park in Colorado or Amelia, Virginia. You can also find it in exotic locations like Madagascar and Brazil.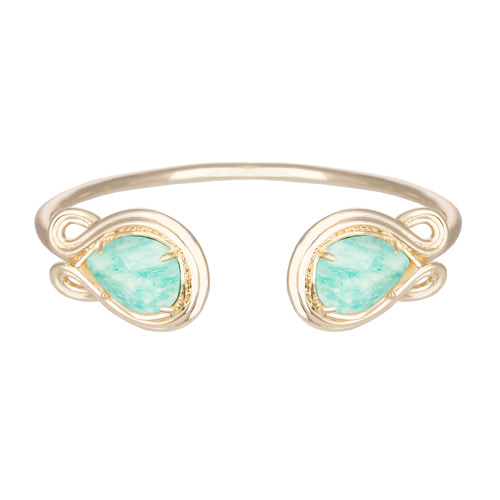 Amazonite Gold Bracelet by Kendra Scott
This pretty green stone is in plentiful supply around the world, so it is a great choice for jewelry. It is a good substitute for the greenish blue turquoise stone, as it can be found in a very similar color. There is some debate as to what creates the feldspar to turn green in amazonite. Some say it is from copper content and others claim it is the minute quantities of lead and water in the feldspar. Either way, turquoise lovers have a new favorite stone with amazonite and will enjoy it in Kendra Scott's designs.
Metaphysical Meanings of Amazonite
If you do energy work, you will want to wear Kendra Scott jewelry containing amazonite. This gemstone is a crystal that helps in communication, aiding in the communication of words with energy. Aside from energy work, it will help you communicate truth from your higher self throughout the day.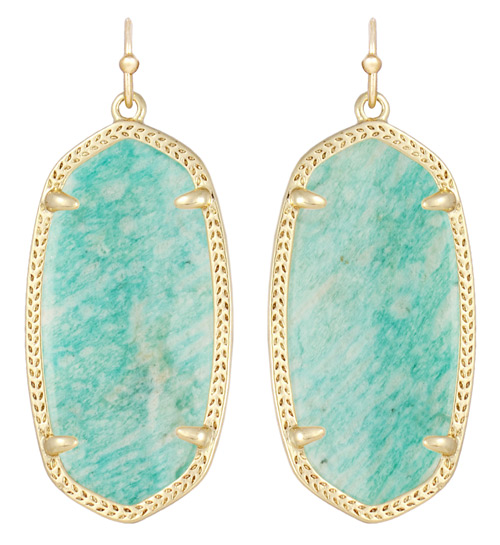 Elle Gold Earrings with Amazonite by Kendra Scott
Ben David Jewelers
Ben David Jewelers carries the
Kendra Scott
jewelry lines and keeps well stocked with necklaces, earrings and bracelets. Stop by today to browse the new spring collections.