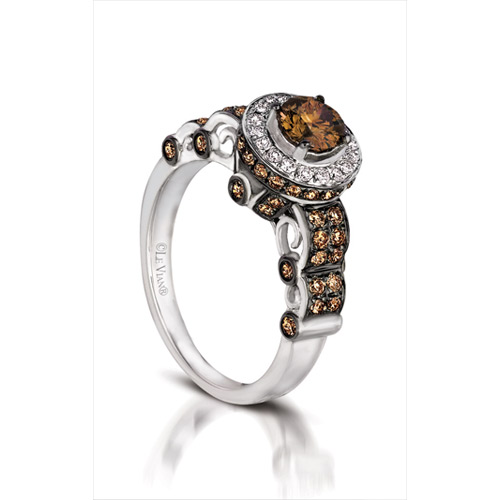 Le Vian Chocolate Ring
The latest rage is owning a Le Vian Chocolate ring. These beautiful rings are made and designed by the famous Le Vian jewelry company. They have been specializing in colored diamonds of late and are creating some very beautiful designs just for chocolate lovers like you.
Le Vian Chocolate Ring
Chocolate and White Diamond Ring in Rose Gold by Le Vian
The Le Vian Chocolate ring is only one of the types of colored diamond rings, necklaces, earrings and bracelets that are made by the centuries old fine jeweler. It is their latest and greatest creation, however. So much so, that they have trademarked "Chocolate Diamond" for the brown diamonds that they use.
What Are Chocolate Diamonds
Chocolate diamonds are a perfectly natural diamond. There are no dyes or colored added to them. They come out of the earth in colors ranging from yellow to a deep, chocolaty brown. Diamonds come in a variety of other colors, also, not just yellow and brown.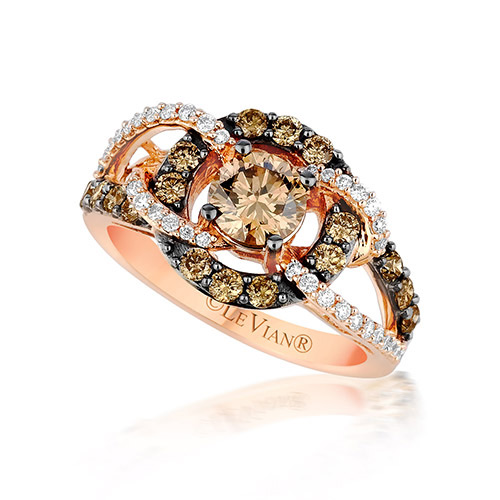 Le Vian Dinner Ring with Chocolate and White Diamonds in Rose Gold
These diamonds need to rate between C4 and C7 on the color scale in order to be put in a Le Vian Chocolate ring. It needs clarity of SI1 or better. So, not any old brown diamond can become a Le Vian Chocolate diamond. Once it is a certified Le Vian Chocolate diamond then the diamond is enscribed on the girdle if it is ½ carat or larger.
Who Wears Chocolate Diamonds
You will see a Le Vian Chocolate ring, earring pair or necklace pendant on celebrities on red carpets from time to time. Le Vian is unique in that it does not pay celebrities to wear their beautiful jewelry. The women will wear Le Vian when they love the jewelry, not because they are making a living wearing a company's jewelry.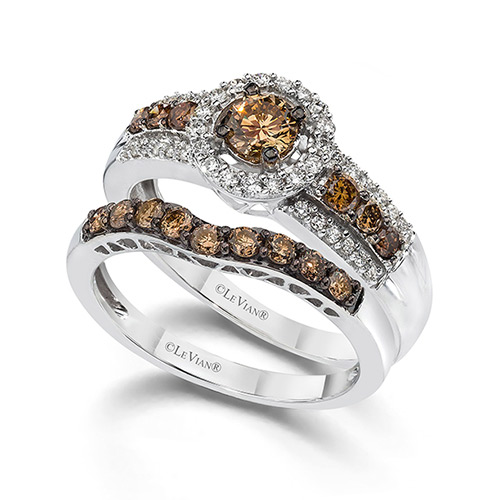 Levian Chocolate Ring in Platinum
Where to Find Le Vian Chocolate Diamond Jewelry
Ben David Jewelers is a retailer for the Le Vian brand and they stay well stocked in their designs. Stop by today to browse and find that perfect
Le Vian Chocolate ring
you are looking for.