Choosing Le Vian wedding bands will give you something that no other bride has: colorful style. While you can go with traditional white diamonds in these bands, you have so many other gorgeous options.
Where to Find Le Vian Wedding Bands
Ben David Jewelers is an authorized retailer for the Le Vian brand. This is a fine jeweler that specializes in bridal jewelry, so you'll find all of the best of Le Vian's bridal jewelry in stock and ready to browse. You will be able to sit down with one of the sales staff and try on many Le Vian wedding bands, as well as other designer brands.
Special Designs
Le Vian is known for their daring and unique designs. When you'd like to have something that is different as well as beautiful, this is the bridal jewelry designer to start with. The Le Vian family has been in the jewelry business for hundreds of years, designing for royalty as well as for the non-royal jewelry lover.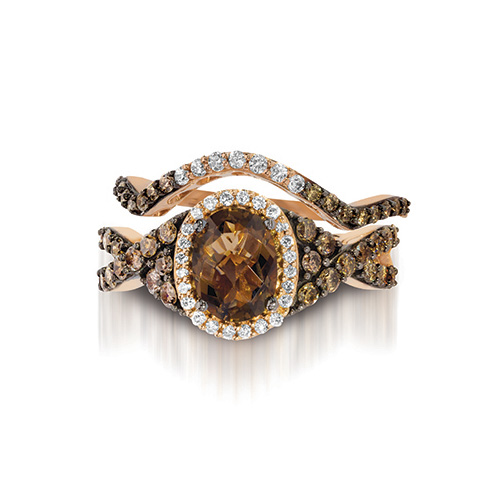 Chocolate Bridal Set by Le Vian What makes this designer jewelry brand different in the current era is their much loved designs, of course, but also their use of color. Le Vian is the company that dared to bring "Chocolate Diamonds" to the jewelry market. If you're a chocolate lover, their various chocolate and vanilla styles are a must see! Be sure to ask about them when you stop by Ben David Jewelers to browse. But, their daring use of color doesn't stop with chocolate. Their rings, pendants and earrings also go wild with diamonds in all colors from black to red, yellow, pink, blue, green, violet and shades in between.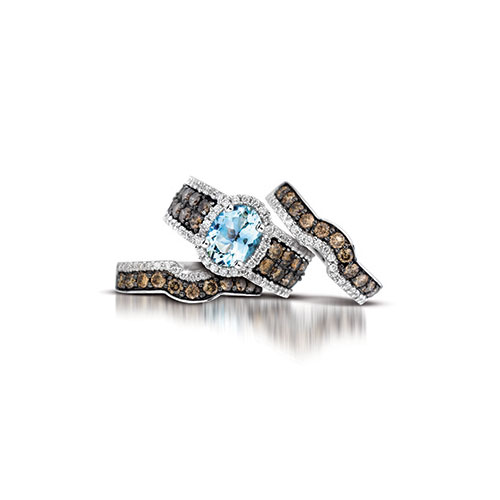 LeVian Chocolate Diamond Ring Set Featuring a Blue Diamond
Ben David Jewelers
Ben David Jewelers prides itself in specializing in being the best family jeweler in the greater Danville, VA, area. We have one of the largest bridal sections, carrying of all the bridal jewelry designer brands brides love to browse.