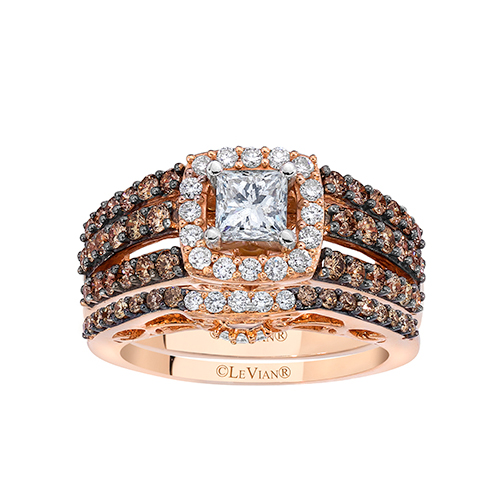 LeVian engagement rings are uniquely designed and so very beautiful. They are not your typical stock engagement ring. LeVian enjoys cutting edge designs and thinking outside the box when it comes to jewelry. They are famous for designing rings using all sorts of colored diamonds, famously their chocolate diamonds, but also red, pink, green and blue diamonds.
LeVian Engagement Rings
LeVian is for the woman who wants an engagement ring that is unusual to match her unique and unusual beauty. There are LeVian engagement rings in most of the colors of the rainbow and they are waiting for you to try them on at Ben David Jewelers in Danville, VA.
The Chocolate Bridal Set
If you love chocolate almost as much as your fiancé, then this LeVian engagement ring might be just the bridal set for you. Its center diamond is a large chocolate diamond and it is surrounded by layers of chocolate and white diamonds. Even the engagement ring band is loaded with chocolate diamonds. The matching wedding band also has even more chocolate diamonds that are offset by a row of white diamonds. This bridal set is the chocolate lover's dream come true for an engagement ring!
The Rose Gold LeVian Engagement Ring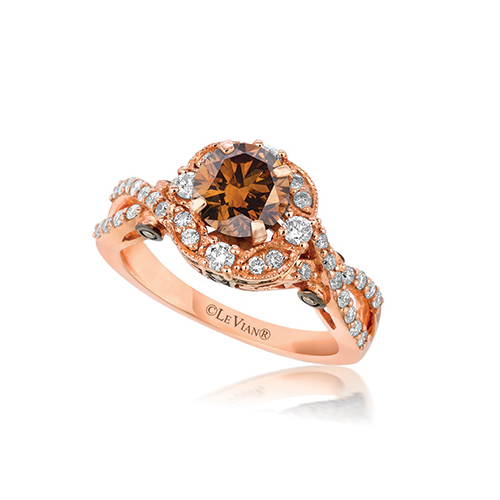 This LeVian Engagement Ring features their famous chocolate diamond, but also boosts the beauty of the chocolate by surrounding it in rose gold and white diamonds. The white diamonds add more brilliance to the center chocolate diamond. The band crosses on each side to add more style and sparkles from the additional varying sized white diamonds.
White Diamond Engagement Ring with Chocolate Accents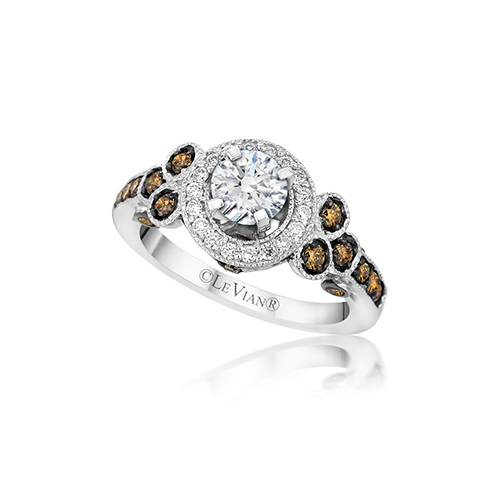 Sometimes you want to accent with chocolate diamonds and not make them the center of the focus. Such is the case with this LeVian engagement ring that might bring to mind finding a tasty piece of chocolate in freshly fallen snow. The center stone is a white diamond and it is surrounded by a white diamond halo and then chocolate diamonds decorate the band. It is the best of both diamond worlds.
Diamond Engagement Rings
It is your wedding and it is your engagement ring. You can get as stylish or as classical as you like! LeVian engagement rings offer you classic style with a twist and also something completely new and cutting edge in fashion. If you are a chocolate lover then their chocolate diamond rings are a sure bet for you. If you like new and different, LeVian offers many choices for engagement rings including blue, green, red and yes, chocolate diamonds. Ben David Jewelers in Danville carries the LeVian designer brand of rings. Stop by soon to try on some of these gorgeous bridal sets.