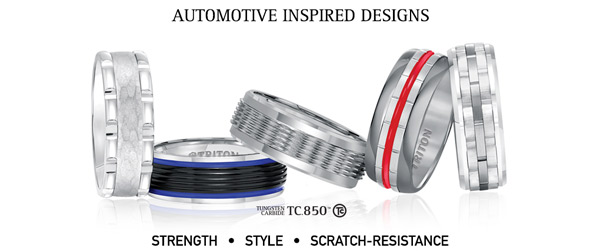 Men's wedding bands are an important consideration, also. There is a lot of attention paid to the bride's engagement ring and matching wedding band, but what about the groom? There are some things you'll need to think about when it comes to his wedding band before purchasing.
Men's Wedding Bands
Triton is a brand of men's wedding bands that has the active guy covered. If the groom enjoys playing sports, or working on his cherished vintage car, he is going to need a different type of ring than the average guy. He is going to need one that will stay looking nice and not easily scratched. Triton wedding bands are made from tungsten carbide and other manmade metals. They are rings that are made to stand up to the tough and rugged way of life.
TRITON MEN'S JEWELRY – FALL 2015 from Triton Men's Jewelry on Vimeo.
When it comes to men's wedding bands made by Triton, you will have a choice of metals. They offer Tungstenair, Tungsten Carbide, Sterling Silver, Titanium, Cobalt and Stainless Steel. You'll need to discuss these options with Ben David Jewelers in order to select the metal that best meets your lifestyle and style. In addition to metal choices, you will also have the option to have diamonds in your wedding band.
Tungsten Carbide
Tungsten Carbide is a manmade metal that combines tungsten with carbon. This combination gives you a very tough ring that doesn't scratch or bend. The reason the tungsten is mixed with carbon is to make it a little easier to work with than the pure metal. This allows the jewelry designer to make men's wedding rings from tungsten. The end result is a ring that is extremely durable and almost indestructible.