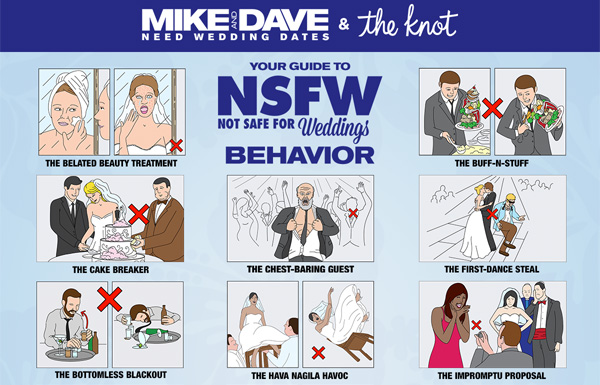 It's your wedding. Your hard partying brothers are always up to no good, no good at all. Now they are looking for dates to your wonderful Hawaiian, getaway wedding in the worst possible way. What would you do? This is the premise of the brand new movie
Mike and Dave Need Wedding Dates
that is premiering in theaters near you on July 8. The Knot is teaming up with the release of this movie.
Wedding
If your wedding is coming up soon, this comedy is likely going to have you laughing hysterically. Then you'll immediately fall into tears, if you have brothers like Mike and Dave. There are 101 problems you can have at a wedding and brothers that excel at drunkenness plus stupitude will bring every one of them. Surely, your brothers aren't NSF Weddings (Not Safe For Weddings), so you will have nothing to worry about. But if they are, you might want to add them to
The Knot's NSFWeddings Registry
where their face will be displayed for all to see.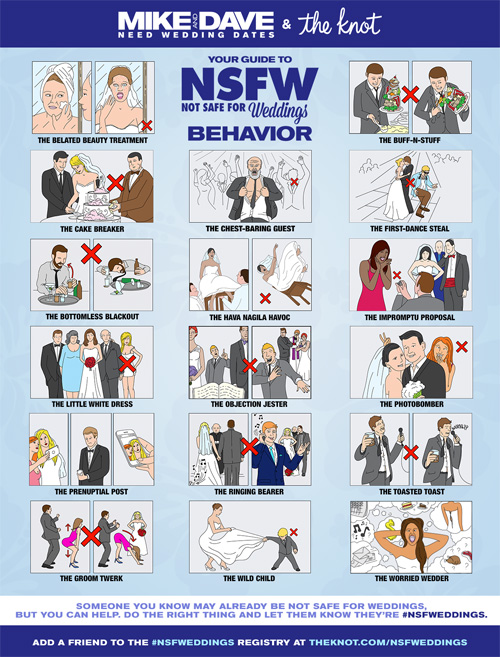 Mike And Dave Need Wedding Dates
Mike And Dave Need Wedding Dates
is a new comedy directed by Jake Szymanski and written by Andrew Jay Cohen and Brendan O'Brien. You might remember Andrew Jay Cohen's name from his huge hits
40 Year Old Virgin
and
Neighbors
. It stars Zac Efron. You know Zac. Everybody knows Zac and he's been in, well, everything lately. Zac is sharing the starring bill with Adam Devine, Anna Kendrick, Aubrey Plaza and Stephen Root. Here is a long trailer so that you can get a sneak peek at this movie now. You don't have to wait until July 8!
Ben David Jewelers
Enjoy this sneak peek of the upcoming comedy
Mike And Dave Need Wedding Dates
and remember fondly a similar friend at your wedding or fearing what your party brother will do at your upcoming one. If the latter, possibly you should tie him up with a
diamond necklace
from Ben David Jewelers and keep him in the broom closet until the reception is over?