Opal rings and their milky stones hold a history of mysterious stories, as well as head-turning beauty. One story claims that Mark Antony so desired an opal for his love Cleopatra that he banished the Roman senator who refused to sell him the almond-sized stone. And while Mark Antony's romantic gesture may seem extreme – the reported cost of that opal equates to $80,000. Today you can find picturesque, unique opal pieces that go perfectly with both formal and casual fashion.
Opal Rings' Literary Legacy
Opal rings make a regal statement with their storied past. In 1829, Sir Walter Scott damaged the reputation of opals for almost 50 years. His bestselling novel "Anne of Geuerstein," tells of holy water destroying an opal owned by a princess. Like a bad tabloid story, the work of fiction pushed opals out of style, as some considered them bad luck. It wasn't until Queen Victoria's reign with her handsome collection of opal jewels that they came back into style. Today, actresses Cate Blanchett and Nicole Kidman, both Australia natives, often wear these gemstones, supporting the large opal industry of their home country.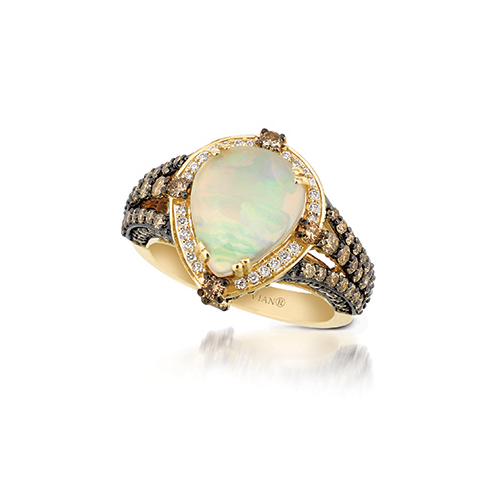 An Opal Ring Design by LeVian Jewelers The "play of colors" encased by opals that can include white, blue, green, yellow, orange, red and purple, pair well with multiple metals and complimentary stones. As the power of these stones is their mesmerizing colors and not sparkle, opals allow surrounding metals to take a stunning role. From antique settings striking back to Queen Victoria's styles to sleek, modern arrangements, opals allow maximum flexibility.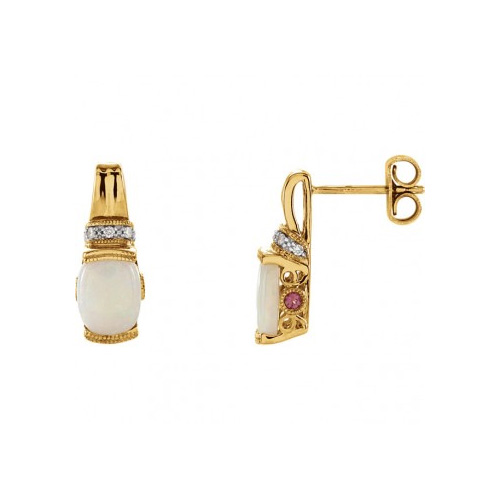 Opal Earrings by Ben David Jewelers If opal rings attract you with their timeless stylishness and legendary history, let us introduce you to stunning arrangements that will once again get people talking. Our professional staff and master jeweler can guide you to impressive settings or a unique, custom opal creation all of your own.