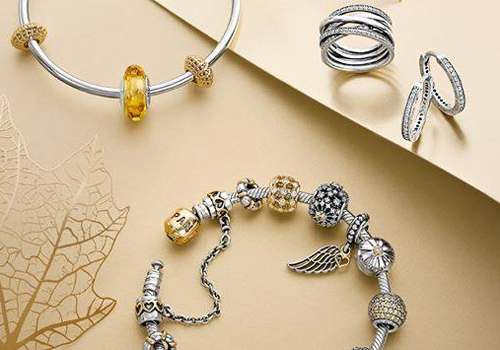 Part of the Pandora Bracelet Autumn 2014 Collection
Autumn is almost upon us and Pandora Jewelry is ready with new, striking bracelet designs for your wardrobe. You have a the choice of purchasing a pre-designed bracelet or designing your own with the help of our staff at Ben David Jewelers in Danville, VA.
Your Unique Pandora Bracelet Design
Pandora is special because they have a patented design for their bracelets and work only in the highest quality of gold, sterling silver and steel. You can pick out charms that reflect special events in your life and charms that symbolize special memories for you. The bracelet is 100% you, from the choices in materials to the charms that adorn it. You get to include only the parts that you love, making it uniquely yours. The patented design of Pandora's bracelets allows the charms to clip into place so they do not move. You can move the charms by gentling sliding your fingernail on the charm clip's side corner to open the clip. When you come into the store to create your Pandora bracelet, we'll show you how it works so you can adjust and change your bracelet whenever you like.
Fun Choices of Charms
There are a lot of rich, warm colors this fall for charms. You'll find plenty of peridot, smoky quartz and gold this year. You can even collect a few extra just for Halloween! And, of course, you don't have to stick strictly to the autumn collection; you can mix it up by selecting from numerous collections that reflect your personality and dreams.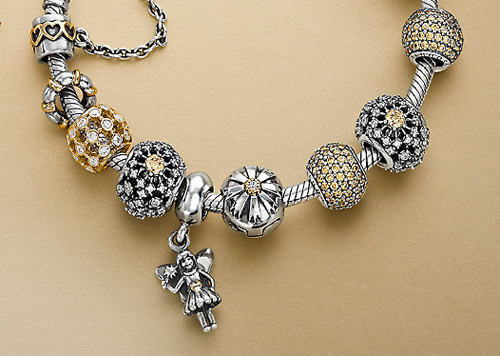 A Pandora Bracelet with Charms
Our Staff is Ready to Help
We love helping you create and the
Pandora Bracelets
are so beautiful. You can stop in any time during normal business hours in Danville, VA, and we'll show you all the gorgeous, intricately designed charms and colors that you can use to make your very own bracelet that reflects who you are.