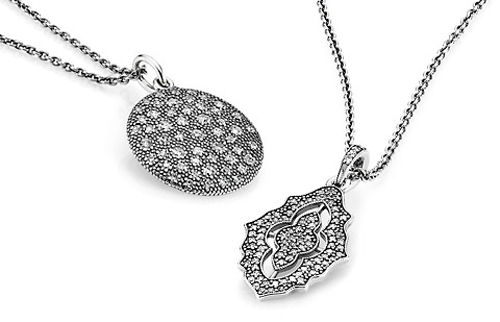 Pandora Jewelry has a beautiful collection of necklaces, earrings and rings in addition to their famous bangle bracelets. Ben David Jewelers carries mainly their bracelets, but if there is a specific necklace, ring or pair of earrings that you have your heart set on, the salesperson will order it in for you.
Pandora Jewelry Charms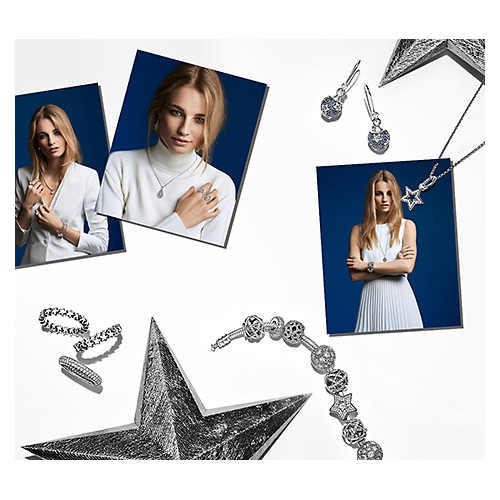 Pandora Jewelry has some very cool charms that affix to their adjustable bracelets. Their charms slide on but stay locked into whatever position you put them in. Positioning the charms is an art in itself. You can bunch them together or only put a couple together and spread the rest out. You are in control of how to show off your super cool charms.
Pandora Jewelry Necklaces
Necklaces from Pandora Jewelry come in sterling silver for most designs. There are some that have a gold or rose cold choice. A few of their pendants will feature crystals, diamonds or other gemstones. If gemstones are not your thing, various pendants are made with beautifully colored enamel to brighten things up.
Pandora Jewelry Rings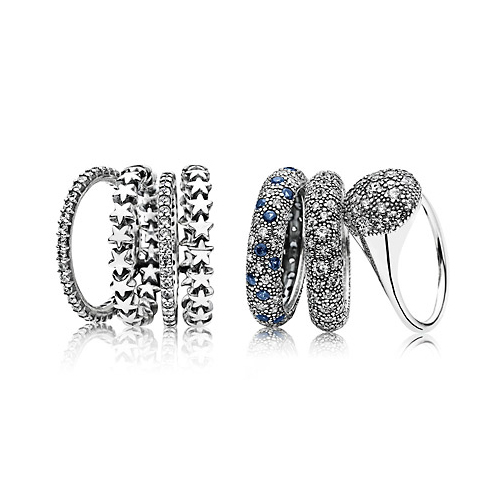 Pandora Jewelry has a large variety of rings and they issue new designs every season to keep you looking freshly updated. Their rings are designed to complement their bracelet charms and come in a sterling silver, gold and rose gold. Pandora's rose gold collection is fairly new and features pretty designs in earrings, charms, rings and necklace pendants.
Pandora Jewelry Earrings
Pandora Jewelry makes earrings to suit every lady's taste and budget. Most of their earrings are designs that are priced less than $100. Instead of using real diamonds, their earrings are given the sparkle of cubic zirconia. Most people cannot tell the difference and you still get that brilliant sparkle that everyone loves in diamonds.
One of the Most Popular Brands
Pandora Jewelry is one of the most popular designer brands of bangle bracelets. The women who wear Pandora are extremely loyal to the company.  They are always adding more charms to their bracelets and keeping up with the new designs that are issued every season. If you are in the Danville, VA, area and are looking for a gift then you should stop by Ben David Jewelers to browse their collection of Pandora jewelry. It is possible the salesperson already knows the woman you are purchasing for and can tell you which pieces she has been wanting.