A Collection of Pandora Rings
We know how much you love Pandora's rings and bracelets! So we're having a special promotion from now until the end of October. Stop in and purchase two Pandora rings and we'll treat you to the third ring.
Pandora Rings Treat
This is a special treat for our customer for the month of October. Pandora has oodles of beautiful fine silver and gold rings that you can stack and mix and match. You have a choice of many different gemstones and designs. Pandora is also famous for coming up with a new brilliant collection for every season every year.
New for Fall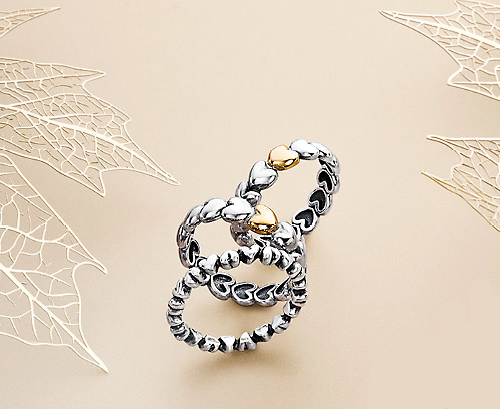 A Collection of Pandora Rings
Autumn is the time of leaves turning color and there is a crisp coolness to the air. Pandora captures this season with several rings that are in leaf designs. You can wear a Pandora ring that is a collection of leaves in alternating gold and silver, or have one that have leaves that sparkle in the light. Round with a large, center gemstone is also ruling the season like with the "Midnight Star" that has a deep blue crystal as a center stone. Another round ring is the Pandora logo ring that features lots of crystals in the center.
Stop In to Try Them On
Stop into our store in Danville, VA, and try on our Pandora bracelets and rings. We'd love to help you narrow down the huge Pandora selection to a few of your favorites. Our "we'll treat you to the third" promotion that is going on right now does end on Friday, October 31st. So, it is important that you arrive in our store very soon.
Ben David Jewelers 459 Mount Cross Road Danville, VA 24540
Local: (434)-792-6561 Toll Free: 1-888-433-4104 Monday - Thursday 10am to 6pm Friday - 10am - 7pm Saturday 10am - 5:30pm