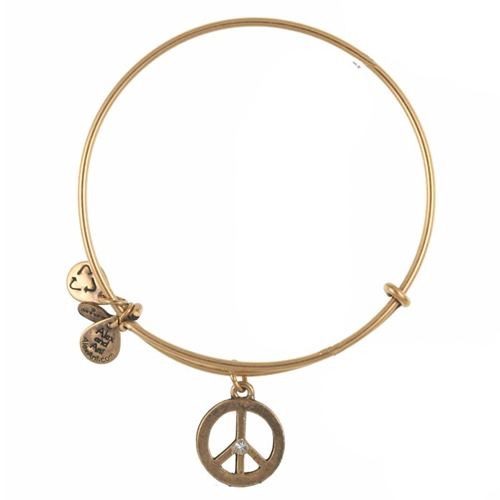 Alex and Ani designed a Peace Bracelet that has become hugely popular. So, much so that they decided they should continue designing on the peace theme. So, they have several bracelets that mention peace now, each with a different approach to the idea.
Peace Bracelet
The traditional, hippy peace idea is represented in this peace bracelet named "World Peace Charm Bangle." It features the peace sign that was so popular in the 1960s and beyond, plus it has additional Alex and Ani tags on it.
This bangle bracelet is available in Rafaellan Silver or Rafaellan Gold in the bangle style. It stacks very well with any of the other Alex and Ani designs. Add this bracelet to make your own political statement about making peace, not war by adding it to your bangle stack.
Create Peace of Mind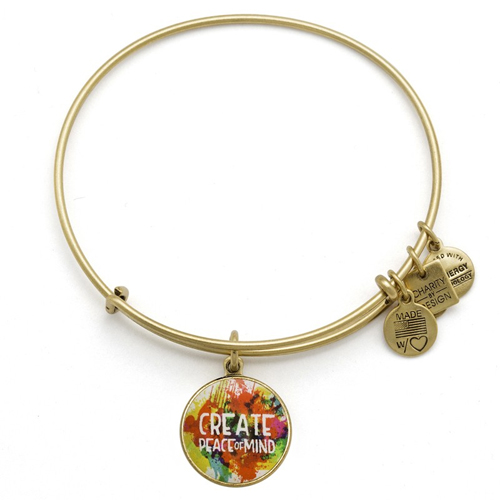 The next Alex and Ani Peace Bracelet is named "Peace of Mind Charm Bracelet." This bangle bracelet features an enamel design reminiscent of the 1960s Flower Power colored posters and has the words "Create Peace of Mind." Wearing it will be your own little reminder to create your own inner peace. It isn't required to be an old hippy to wear it, but it wouldn't hurt, either. This bracelet also comes in your choice of Rafaellan Silver or Rafaellan Gold and it looks beautiful when added to any Alex and Ani stack of bangles.
Turn Peace Up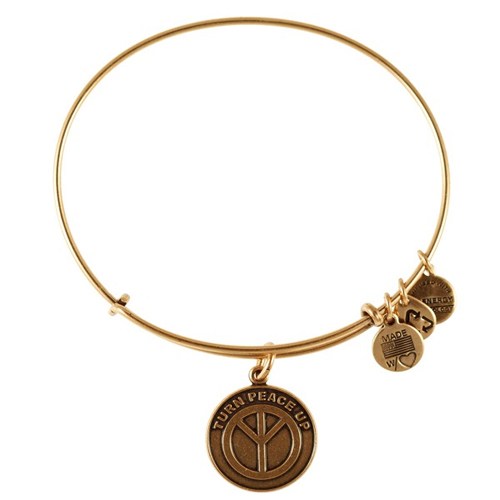 "Turn Peace Up" is Alex and Ani's other peace sign bangle. It features an upside down 1960s peace sign and the words "Turn Peace Up." This is a reminder for you to do what you can do in your daily life to contribute to positivity and peacefulness. This bracelet is available in a Rafaellan Gold Finish or a Rafaellan Silver finish, your choice. It also has three small Alex and Ani charms on it.
Sacred Dove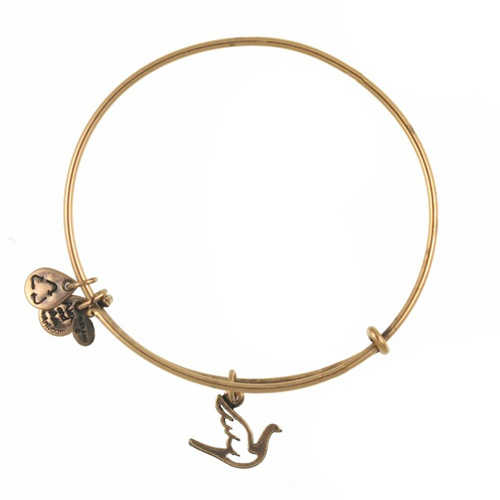 Also a symbol of peace, the Alex and Ani "Sacred Dove Charm Bracelet" features the dove. The dove has been used as a peace symbol since the early Christians. Doves are mentioned in the bible in a couple of places, most notably when Noah had one fly off the ark in search of land. It is also mentioned during Jesus' baptism in the New Testament. You have your choices of a Rafaellan Gold finish or a Silver Rafaellan finish with this peaceful dove bangle bracelet. It mixes very nicely with the other peace bracelets as a political or personal statement on war.
Alex and Ani Bracelets
If you are looking for a traditional peace bracelet, Alex and Ani probably has what you are looking for. Ben David Jewelers carries the Alex and Ani line and their sales staff is always happy to let you browse their collections. Stop by today to pick up one or more peace bangle bracelets.