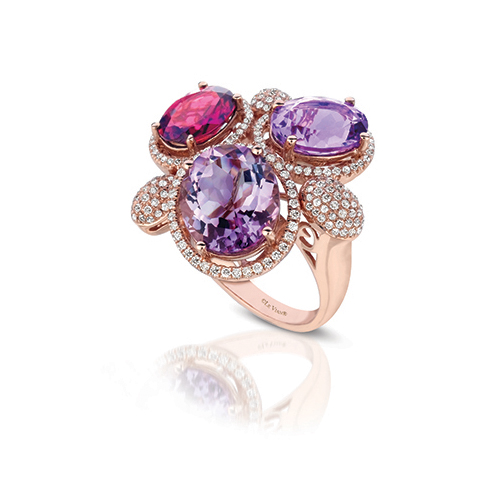 Pink diamond rings are so romantic and beautiful. LeVian Jewelers specializes in colored diamonds and they are one of the first famous jewelry designers to specialize pink diamond rings.
Pink Diamond Rings
LeVian Jewelers designs around many different colored diamonds. This jewelry designer is particularly known for their chocolate diamonds, but they are branching out into many colors of diamonds such as pink, deep red, yellow, green and blue. They are experts at blending white diamonds in the design featuring colored diamonds to bring out the best in color of all of the diamonds.
Firey Red Diamond Rings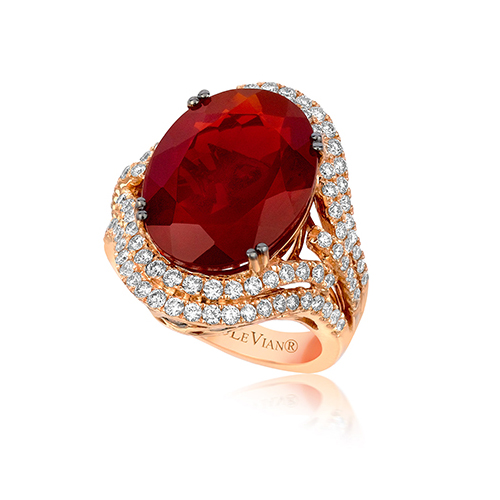 Pink diamond rings are just a variation of firey red diamonds. You can find them in a very deep color like this firey red diamond ring from LeVian, Model #VIMK219. This ring is a deeper red than pink and has the large red diamond in the center. Surrounding the red diamond are oodles of white diamonds in a double row on the bottom and single row on the top. The rows of white diamonds meet up on the ring band.
True Pink Diamond Rings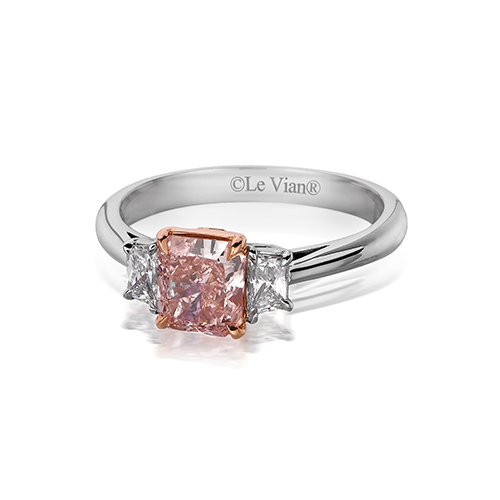 This diamond ring from LeVian (Model Roby64) is truly pink and in a cushion style. It is classically elegant with a simple, precious look with large white diamonds on either side of the pink diamond. If you love the graceful designs of the Art Deco period then pink diamond rings like this from LeVian are probably exactly the ring you are searching for.
A Pink Variation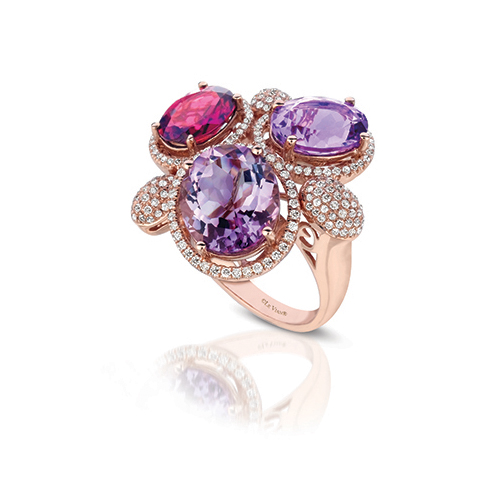 In this LeVian creation in their Strawberry 'N Cream Collection, the diamonds are a combination of pink and blue for a beautiful violet color. The setting is made of a rose gold which brings out the beautiful pink tone of the diamonds. It is the best of both the world of pink and the world of blue for a magnificently colorful diamond ring. If you cannot find pink diamond rings that you are looking for, something like this violet color ring might be just the perfect ring for you.
Create Your Pink Diamond Rings
Most rings can be purchased without the gemstone. One way to create your own pink diamond rings is to find a setting that you really like and then pick out your pink diamonds separately. The Master Jeweler at Ben David Jewelers will be able to set those specific gemstones into the setting for you.
Shopping for Diamond Rings
Anytime you are shopping for diamond rings and jewelry, you need an ethical and helpful jeweler that will help you find your perfect pink diamond rings or any jewelry you are looking for. Ben David Jewelers in Danville, VA, is that jeweler that can help you. They will also custom make jewelry for you, if you have a specific design that you want created.