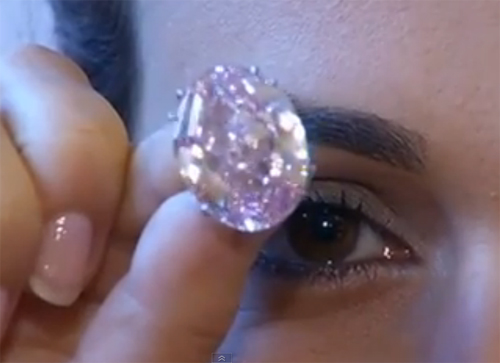 A rare pink diamond named "The Pink Star" sold at auction for $83,000,000 in Geneva, Switzerland. This 59.6-carat oval diamond is the most valuable diamond that has ever been auctioned.
This Pink Diamond is Internally Flawless
The Pink Star was originally valued at only $60 million US dollars, but the bidding went much higher. What's so special about this diamond, other than its weight, is that it is the largest vividly pink diamond.  And it is internally flawless.
David Bennett, Chairman of Sotheby's Jewelry Division in Europe and the Middle East and Chairman of Sotheby's Switzerland, said, "I have had the privilege of examining some of the greatest gemstones in the world over the past 35 years, and I can say, without hesitation, that The Pink Star diamond is of immense importance. Its exceptional richness of color – graded as 'vivid pink' by the Gemological Institute of America – combined with its extraordinary size, are characteristics that surpass those of any known pink diamond in State, Royal, or private collections. It is difficult to exaggerate the rarity of vivid pink diamonds weighing only five carats, so this 59.60 carat stone is simply off any scale, and passes, I believe, into the ranks of the earth's greatest natural treasures."
Part of a Rare Diamond Subgroup
In addition to the rarity of pink diamonds and the fact that this particular diamond is flawless, it is part of the subgroup Part IIa. Diamonds that are part of this subgroup are the purest diamonds. And they have the ultimate transparency because of their pure diamond crystals. Less than 2% of all diamonds are found to be in this particular subgroup. "Graff Pink" was a similar diamond, but had less weight of "The Pink Star," at only 24.78-carats.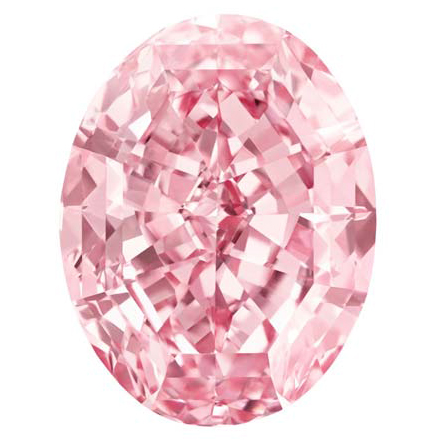 Pink Diamond History
Pink diamonds were first discovered in India and have been the most popular diamond ever since. Many of the more famous diamonds in history were pink, such as the 'Williamson', the 'Hortense', the 'Darya-i- Nur' and the 'Agra'.