Here are some choices in right hand diamond rings that will just knock your socks off because of their beauty. Ben David Jewelers carries a couple of diamond ring brands that offer spectacular designs and diamond color choices.
Right Hand Diamond Rings from LeVian
LeVian Jewelers is one of the brands that Ben David Jewelers in Danville, VA, carries. This jewelry designer's specialty is beautiful, colored diamonds. They have diamonds in reds, blues, greens, yellow, white and browns. They are known for their chocolate and blueberry diamonds and stunning designs of engagement rings and right hand diamond rings.
Sinuous Swirl Diamond Ring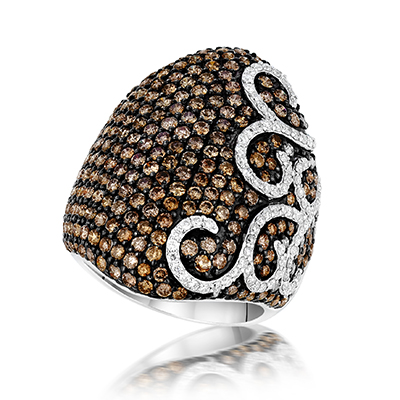 LeVian's Sinuous Swirl right hand diamond ring shows just how spectacular a chocolate diamond ring can be. This dome shaped ring is loaded up with chocolate diamonds and then has a pretty swirl on the left side that is made of white diamonds. The model number for this ring is ABSC7, if you would like to ask about it at Ben David Jewelers. Ben David Jewelers also carries a lot of other right hand diamond rings.
Strawberry Diamond Rings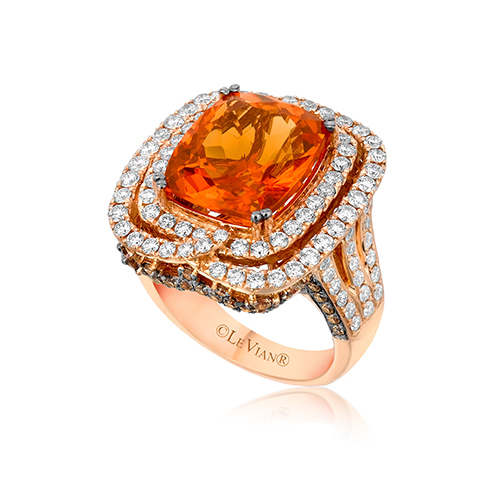 This strawberry beauty is a right hand diamond ring that is very unusual. How often do you see red diamonds? This is the perfect choice for the red head. It has a strawberry red diamond in the center that is surrounded by two swirls of white diamonds that go all the way around the strawberry diamond. The very outer edges are enhanced with small chocolate diamonds to give the piece some depth. The model number for this right hand diamond ring is VIMK250.
Hearts on Fire Right Hand Diamond Rings
Hearts on Fire has some of the most beautiful rings on the market. While they are known for cutting diamonds so that it leaves a ring of hearts viewable inside the gemstone, they are also one of the best jewelry designers of right hand diamond rings.
The Aerial Cross over Diamond Ring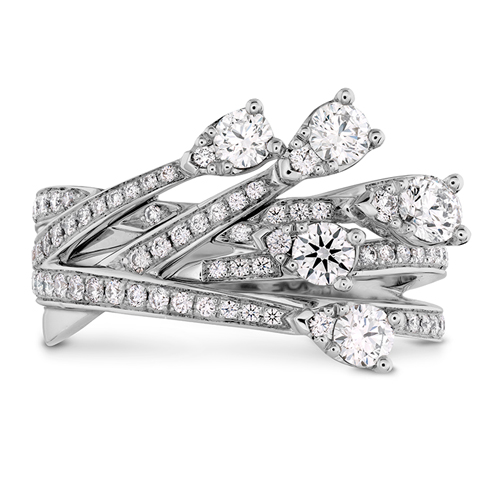 This right hand diamond ring is a bit like a hydra. There seems to be a never ending series of heads popping up. There are five main Hearts on Fire diamonds in the ring and they are in pear shaped settings. This ring boasts a total of .95 carat weight of diamonds which includes the main diamonds in the pear shaped settings and the diamonds that are along the many bands.
Copley Medallion Right Hand Diamond Ring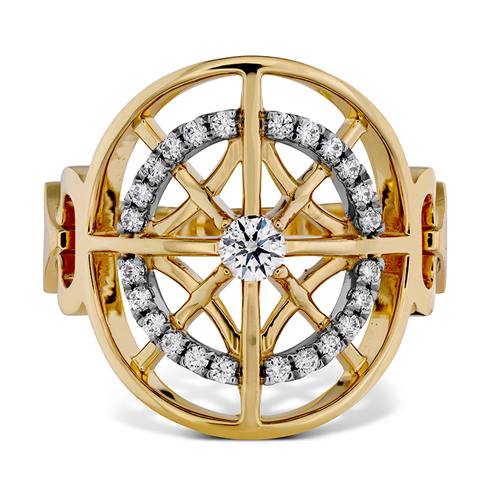 This Medallion right hand diamond ring from Hearts on Fire's Copley collection brings sailing adventures to mind as it has a little bit of a nautical look to it. The approximate carat weight of the white diamonds in this beautiful ring is .30. Your metal choices are white gold or yellow gold.
Copley Single Circle Earrings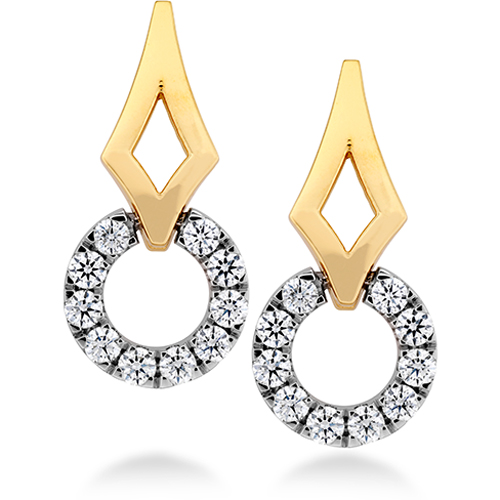 If you decide to purchase the Copley Medallion ring then you should take a look at the Single Circle Earrings, as well. These earrings are a beautiful match of that right hand diamond ring. The metal choices for these diamond earrings are yellow gold or white gold, and platinum is included in the design for each metal choice. The total diamond carat weight is .55.
Diamond Ring Shopping
Whether you are shopping around for diamond engagement rings or right hand diamond rings, Ben David Jewelers is your one stop shop for the most beautiful, designer jewelry on the market today. Their sales staff will sit down with you to discuss your needs over some warm beverages and cookies. They want to make sure you get the exact ring you are thinking of.