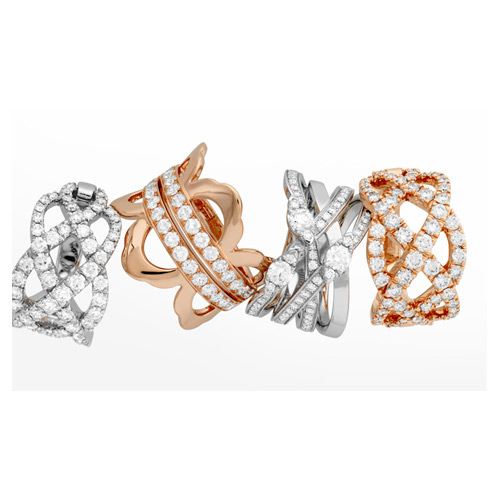 Ring stacking is a current style in wearing rings. No longer do you have to have just one ring per finger. You can now stack your rings on one finger or many to show off your awesome jewelry. Ben David Jewelers' sales staff is very experienced in this method of displaying rings and can help you get started.
Ring Stacking
There are many ways to accomplish ring stacking. There are also many different rings that work well in a stack. You can use the regular area of the finger to wear your rings or you can wear them higher up. There are many options on how you can wear them.

Some rings won't work very well in a stack unless you have a ring that fits around the larger ring, like in an engagement ring and wedding band combination. You can have Ben David Jewelers custom make a ring that is in a shape that fits your large ring well, or you might get lucky and find an old wedding band in the estate jewelry case that will work. Be adventurous and mix and match rings until you find some that fit beautifully together.
Most stackable rings are more of a band type, so that it is easier for the rings to go together. Pandora designs many of these types of rings and Alex and Ani makes them exclusively. If you'd like to go high end and purchase only rings that are loaded with diamonds, Hearts on Fire is a great choice.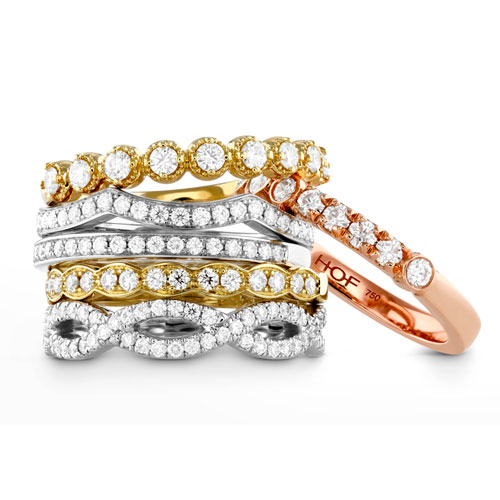 Your ring stack can go in the normal spot on the finger or you can stack them higher up near the fingernail. There are no rules when it comes to wearing your rings like this. It is so fun to be able to show off a lot of rings instead of wearing just one. You can wear them in any way that expresses your artistic design.
Ben David Jewelers
Ben David Jewelers has a full time staff that is very well versed in the latest trends and fashion designs. They are happy to help their customers experiment a little and find new and fun rings for ring stacking. Stop by the Danville, VA, location to try on many designer brands of rings and have the salesperson help you see what looks fabulous together. Ben David Jewelers is open Monday through Saturday for your shopping convenience and we hope to see you soon.